It's actually effing freezing outside. Which has been great for me. I've managed to catch what everyone has been coughing in my face, so it's been a good excuse to stay curled up in bed with lots of blankets and lots of tea and act like a pampered princess. And when I do venture out, it takes about twenty minutes for me to correctly assemble all of my layers of underknits, knits, pullovers, cardigans, sweaters, sub-jackets and regular-style jackets. So really, it hasn't been worth the effort.
Then again, I've got it good. Because while I only have to deal with dressing one person in winter-wear most of the time, there are all of those selfless individuals who put others first—making sure there are enough mittens, carefully fastening booties, tying on scarves, and zipping up parkas on the undersides of bellies.  Wait…what?
I mean, you have to, naturally. Because how else is Fritz going to do up his zipper without opposable thumbs?
I was honestly under the impression that aside from the Kardashians of the universe, no one actually wasted that much time, money, and braincells on their pooch's wardrobe. The occasional bee-dog costume I can dig, and my favourite pups always look kind of hilarious with reindeer ears on Christmas morning, even when I'm feeling my scroogiest. This winter, though, my eyes were opened to the manifold dog-dress options.
There are countless badly-named boutiques of this crap. Virtually every Toronto neighbourhood has one. But it wasn't until this year that I began to encounter the sheer volume of designer duds for dogs. Part of me sympathizes with the chihuahua wearing a faux-fur coat—those things tremble when it's not sub-zero, so trying to prevent creating a pupsicle gets a pass in my book. But why the hell do your collies needs boots?
The line is not drawn at outerwear, however. Though we've got countless possibilities. If gawdy is your thing, you can bedeck your pet in a fur-lined Juicy Couture parka, or clip a leopard print leash onto a leopard print doggie coat, courtesy of Christian Audigier's Ed Hardy for dogs line, Chrome Bones.
If you need something a little more formal, there are whole designers who design nothing but doggie evening wear. I wish I was making this crap up. Ruff Ruff Couture, for example, gave us this lovely fur shrug—
—a perfect, no-fuss way to keep your pooch warm when a full-feathered formal dress is just too breezy.
If Roxy is actually a Rover, don't worry—there are tons of bespoke, made to measure tuxedo options for when he needs to clean up good.
As for informal stuff, it's there in droves. Hoodies, jackets, sweaters, knits. From pink camo to bedazzled, for a modest $19…
Now all you need is a pair of terry cloth sweat pants. No one could possibly make something so ridiculous, right?
I rest my case.
Should auld acquaintance be forgot… et cetera, et cetera. The dawning of a new year, my friends, means the possibility for turning over a new leaf, rectifying past ills, and relinquishing former wardrobe trangressions for a good many of us. 2010 was a pretty remarkable year. Fashion seems to have taken a profoundly reinvigorating gesture over the course of the last decade—moving from the leopard and hot-pink incrusted juvenalia of the early naughts to an extremely interesting and profoundly unexpected affectation for the bizarre, the tense, the uncomfortable, the wonderful, and the occasionally downright heinous. Whatever the case may be—from the onslaught of colourful, unconventional 'young' designers joining the ranks of Fashion Weeks in New York and Toronto, to the devastating passing-of-the-torch from the delightfully rebellious infant terrible Mcqueen to his sartorial forebears, to the swelling ranks of young bloggers who professed to be the unsolicited, un-bought new voice that would topple the teetering ivory towers of fashion publications (…yeah right!)—there's been a hell of a lot of fantastic steps and missteps that I've culled, recovered, investigated, and presented for your consumption. Because surely I'm not the only one furiously flipped through twenty million tabs of blogs on Safari still trying to recover from my New Years hangover three days later…
If one thing can be said that will encapsulate the attitude of the style industry over the last year it can be summed up by outrageous. Fashion's darlings (and demons—these epithets are mostly interchangeable!) have never ceased to shock and amaze, whether it's ridiculously good or just ridiculous. So I've culled and selected for you some of the most outrageously over-the-top trends in the hopes that we can all, unanimously give these looks a not-so-fond farewell.
While the last year was an enormously popular year for leather and tweed and luxe textures, these were sometimes not enough. Hence, we all started walking around in 2010 looking like mutant ostrich/muppets:
Whether they were adorning our miniskirts or bulking up our bulky shoulder pads we succumbed, in some variation, to this fowl (see what I did there?) trend.  And it wasn't the odd peacock feather adornment, it was shaggy, preposterous, all-over uses of our fine feathered friends that made this look so laughable. Whether looks like the above, that resemble the pelt of the love-child between Animal and Big Bird, or a more constrained incorporation like Lea Michele, where the colour, the cut, and the proportion on any other dress would be out of this world, there's no way to rock a look that suggests your nether parts have had a nasty run-in with Rogaine…
But I guess there's no competition between this and a look that actually was inspired by superfluous hair—behold, Lady Gaga:
Combine that with the infamous meat dress and it's quite clear who takes the cake for bizarro, out-of-this-world looks. But there were loads of starlets and tartlets nipping at her notoriously pants-less heels. While no one can outtrash Ke$ha (it pains me to have to spell something using a dollar sign)…
…and we have her to thank for the spate of hipster headdresses (no matter how culturally insensitive nearly everyone with a brain thinks they are) luckily I haven't seen many (read: any!) West Queen West-ers rocking body paint and feathers. Here's to hoping that this one was washed away with the rain on New Years Eve. Instead, this year marked the year where we all decided to sift through our parents (and grandparents) old closets and wear the most ill-fitting and ill-adapted clothing:  the busted high-waisted daisy duke and the slouched and bunchy collared blouse, the hipster uniform of 2010:
Or, even better, all the above with the added benefit of a layered pair of tights. Because all we needed more of this scorching summer were sweaty crotches—
In excesses of the harder-textured variety, it's impossible to write a review of the year's trends without a nod (or a giant six foot sign) to this year's obsessions with metallics in both fabrics and accessories. Combining attitudes of both 'more is more' with literal pounds of accessories…
or and 'less is more' with studded minis—presented for your disapproval the dress-qua-weapon—
it was all about taking cues from hair-metal leather looks—even if you happened to be a pop tartlet. So whether one dressed in something borrowed from Gene Simmon's stage garb, or dressed in (I use the term loosely) something akin to a groupie's walk-of-shame the next morning, it was all, horribly, somehow on trend. Of course, no one rocked the underwear as outerwear more appropriately than kinderwhore Taylor Momsen, who really made 2010 her year to shine… or something.
There was honestly nothing this prostitot did that didn't garner a frenzy of commentary (Tim Gunn, you're my boy!). From stripper heels (replete with tip slot) and garters, natty blonde extensions and an inability to remove her eyeliner for what seems like weeks on end, there's only one thing this girl needs—everyone to stop paying attention to her, or, contrarily, a handler to start paying attention to her.
Alas, of course, she wasn't the only one flashing her unmentionables (ignoring how intensely I want to never have cause to think of her unmentionables again). Her Gossip Girls costars, several years her senior and who ought to have known better, also decided to flirt with undressed disaster. Blake Lively (more aptly known by the monicker Boobs Legsly) trotted out in this runway look
only to have been outshone by the crazy of her castmate, Leighton Meister, who tragically managed to take one of my most beloved fabrics (lace), combine it with one of my most detested pieces (a jumpsuit) and thus wear both too much and too little simulatenously:
I guess the moral of the story is that at least Hollywood seems to now be familiar with lingerie, unlike the pantiless trend of a few years back. No one, I trust, is eager to repeat that.
As style is known for its penchant for extremes, while these girls were barely sheathing their lady parts, the other half of Hollywood seemed keen to pile on as much volume and fabric as possible. While Lindsay has an excuse here—you may recall her hilarious attempts to camouflage her alcohol monitoring anklet—that doesn't explain the bizarre proportions that were strutting around everywhere.
My hate-on for parachute pants is well known, but it bears reiteration. Looks like these prove you've got balls. Looks like these also suggest that you are deftly trying to hide your balls. In your pants. Somewhere. But that's all in keeping with the gender-play that was happening all over the place—inspired, I'd like to think, by the late 2009 Purple shoot when Kaiser Karl shot model-darling Baptiste in drool-worthy stilettos:
but most deftly incorporated by the reams of women who pulled off the menswear trend so fantastically…
…a far cry from those that didn't quite get the look off the ground…
Or, even worse, for the dude's who didn't even know it was possible for menswear to look good. Is the universe about sick of Ed Hardy? I thought we were done with this shit last year.
There are loads and loads and loads of other notable mishaps, but I've vowed not to start this year off too depressingly. Lessons learned, dear readers. It's been a long year. With any luck, this one will be better, and we'll have far less to regret.
The season is rife, dear readers, for sad, sorry, sartorial sacks to regale you with. Just the other week I saw a woman walking down the street who was—legitimately—wearing half a cow on her hands and calling them mitts. People are still wearing mukluks, our dear old Carl still can't undo the Wookie he sent down the runway (I'm still cringing, and it's been how many collections since?)—and what's more is that I'm cold and irritable so all of these heinous monstrosities are all the more unforgivable.
But I digress.
There I was, a few nights ago, feverishly avoiding the outdoors and the minus ten thousand wind chill, curling up with a bottle of wine and some old episodes of Project Runway. While I've got this major love/hate thing going for Gretchen, the pendulum firmly swung in the direction of wanting to wring her neck for that awful 'collection' she spearheaded and sent down the runway featuring that atrocity against womankind—the Palazzo pant. (I'm almost grateful that Google has so graciously censored me from ever coming across that image again, no matter how hard I search). I was frozen in my tracks. I put all my plans on hold. I almost spit out my wine (and we all know how much I love my wine). I had to take a few deep breaths and count to ten before I suckerpunched my laptop across the room. Because honestly, HONESTLY, who the hell still thinks that palazzo pants are a good idea?
(Apparently the entire cast of the last season of Project Runway who kept making these things.)
So I know that we're all getting kind of bored of the same skinny, pegged silhouette for trousers, and maxi skirts are totally killing it. But no matter how many excellent street-style snaps the Sartorialist takes there is no way in hell I can get on board with these things. What's more, the "comfort and ease" of these imminently wearable disasters is slipping by me by virtue of its eerie similarity with looks I totally adore—legit, amazingly dramatic, leg-less maxi skirts.
Apparently I am supposed to respect them because Coco Chanel bandied them about in the pre-resort-wear era of resorts, according to one sage website. And apparently because Marc Jacobs met his muse in a 70s woman who discoed the night away means that we're cursed to look like we're on our way to 54 since everyone is bandying about seventies references for Pre-Fall. And since everyone is still on Chloe's dick (don't get me wrong, I love a fine neutral) I guess it's fair to say that these things just aren't going to go away anytime soon. (But wait! If the seventies are back in a big way, does that mean bush is back?)
I don't know. Maybe this will end up being one of those times that a look I totally hated will grow on me with time. (I never thought I would ever get onto the whole faux-fur thing, yet here I am a year later with a stole that I wrap lovingly around my camel-hair coat. Whoops.) I mean, maybe they can get done right? In the right colour palette, with a little bit of sophistication…maybe I can ignore the fact that the outseam on them is pretty much a zillion.
Or maybe, just like everything else I hate (gladiator sandals, uggs, crop tops, shrugs and boleros…) if I stick my head in the sand for long enough these awful things will just go away.
Just think: Oprah loves them because they're 'easy and versatile.' In the immortal words of Michael Kors (even though I can't consciously exonerate him from the atrocities of this post), saying you like something because it's comfortable is like saying you're into a trend "because it's washable." I'll gladly cover half of Toronto's dry-cleaning bill if you, dear readers, will banish the thought of every trying to pull off a pair of these.

'Tis the season, blah blah blah; coats are getting pulled tighter, there is a layer of gross, slushy white stuff on the ground. You've retired your heeled boots and converted to those rugged, treaded, laced-up disasters that somehow passed the cut for winter footwear. If you are anything like me, this lovely pre-Christmas dumping means that I have officially transitioned into holiday-hibernation-mode. But those lucky few with social lives are gearing up their livers and wardrobes for the veritable entertaining onslaught that is the holiday season.
To be honest, writing this article is a little difficult for me. I thought that we've all taken to heart the basic sartorial commandments provided to us by Clinton and Kelly, but just a few weeks ago a good pal of mine hailed my attention to a particularly heinous photo of a colleague at their Christmas party. Picture this: all of your peers, all of your supervisors, all of the people that you will have to answer to, together in one room, libations freely flowing—and you, having shown up in that gorgeous black velvet corset you've been waiting to bust out (or bust out of).
(Names and likenesses have been withheld to protect the guilty, naturally.)
I fully support and fully enjoy me some great cleavage—but I'm not sure how boldfacedly I can scream INAPPROPRIATE. By the next morning when Facebook photos of this particular individual started to surface (and were mercilessly side-eyed by yours truly), I can only imagine just how badly this girl wanted to reconsider just how well her professional community got to know her.
I thought that the rules would be fairly self-explanatory. Don't be heinous, don't be tacky. Nothing plunging, nothing labia-grazing, nothing so tight you can see yourself digest; no stripper-shoes (unless you work at a club) for a number of reasons (winter weather conditions, personally, ranking fairly high up on that list of reasons for yours truly); don't wear things that light up (unless you're Katy Perry or a middle-aged middle school teacher and it's a brooch of a wreath or a menorah or Christmas tree with little flashing LED lights); ugly Cosby sweaters only when explicitly directed to (ugly Christmas-sweater-party hosters, whurr you at ladies!); don't wear your under-wear over your outer-wear, avoid wearing tinsel, and never, ever is Sexy Santa the right choice. Ever. At all. Like, never.
These fashion standards are not particularly elusive and exclusive, duly handed down to the worthy  after years of wardrobe training. And it's not like I'm pulling them out of left field, either—common sense and a desire to avoid frostbite would be enough to dictate the general sense of the preceding list. Don't look like a Christmas tree, don't dress like you live in the southern hemisphere when you're slushing through ten centimetres of snow to get where you're going, and be prepared with a few extra insulating layers to ensure your limbs don't end up gangrenous while you wait hours and hours for the streetcar. I never thought I would have to actually spell it out, but tights are your friends: you may look like a babe before you step out the door, but by the end of the night both you (and everyone that you've whined at about how f-f-r-fr-freeeezing you are) will wish you hadn't come out at all.
Lots of website and blogs have tips and tricks. Just google a quick "what not wear to holiday parties" and a million suggestions pop up. They cover the basics, this one offers some great dressier options that don't completely kill your personality (l-o-v-i-n-g that Anthro dress). If you need the rules broken down for you further, this educational slideshow is dummy-proof. If reverse inspiration is more your thing, there is an entire e-shop devoted to ugly Christmas sweaters—if any of your potential options resembles anything on there, you should probably just never leave your house again until someone stages a wardrobe intervention.
The boring, other side of the coin is the inevitable struggle between being able to cut loose from the biz-cas and actually wear something you enjoy wearing. My general rule of thumb (for everything I wear, honestly) is black, no more than a few inches above the knee, and never strapless. Boring, possibly. Put together, obviously. Throw some badass cocktail bling on (I'm partial to rings that look like they could kill someone) if you feel the need for something a bit glitzy, and then pile on the scarf and jacket and gloves and hat and appropriate footwear (or hop in a cab if you've just got to wear your stilletos). I am morally opposed to sequins (and also from taking advice from anyone that identifies as a "good housewife")—but really, just looking at these kinds of tips and tricks for a "Christmas Party Look that's Meant to Dazzle" makes me want to puke a little. (Ok, a lot.)
But for those of you that learn by example, I'll quit with the negatives and start offering some positives. If classic black's not your thing, a beautiful lace covered dress (appropriate slip is mandatory) is always classy. If you can't do monochrome, a sharp coloured dress (preferably something that isn't forest green or holly red if you have an ounce of creativity) makes a totally amazing impression. An amazingly well-cut dress in a surprising fabric is professional but appropriately bling. And if you need to go glam, go big or go home—but keep it tasteful. Nothing screams that you're a smart, savvy, strong ass lady better than wearing an impeccable dress better than it wears you (and nothing so firmly cements the opposite impression as looking the moron and proving you're the right moron for the part). If there's is anything about your look that resembles a gift waiting to be opened, or a Christmas star from your parents old tree, or some of the crumpled foil from the top of a crappy bottle of champagne, save yourself the embarrassment and drink your sorrows away in the comfort of your own jammies, in the comfort of your own home, with the comfort of your own toilet. Dress yourself before you mess yourself, ladies.
While, luckily for me, it's usually pretty easy to spot a trainwreck from a mile away (are suburban white chicks still wearing mukluks? with furry snowballs attached? really?), sometimes it's the subtler things in life that make you grateful you can see straight (or laugh mercilessly at those who seem unable to, at least when dressing themselves). Admittedly, I haven't given much thought to my eyebrows before a year ago. Sadly, I was one of the high-school, overplucked masses, and after having gone back to look at some of my old photos a few years ago (this was pre-myspace—just imagine!) I solemnly swore to myself that I would never submit myself once again to the torture of the tweeze. A few stray hairs, make sure nothing looks too uni-browish, short and sweet. Makeup remains a real anathema to my shit-don't-have-time-to-wash-my-hair today, out-the-door in five minutes with coffee in hand, chasing after the bus morning routine; the less I have to think about taming my hardly unruly brows, the more time I have for infinitely more rewarding endeavours (like posting bi-weekly rants about what's horrible with everything).
I've always lived in paralyzing fear of the so-called sperm eyebrow. Back in the pre-myspace days of forums and message boards I used to frequent one in particular—it was patrolled by a bunch of really cool grrrls, all of whom were righteous, bad-ass babes. One of these posters in particular, I remember this day, had the most immaculately well-kept pair of brows I'd ever seen, and she used to scoff at anyone, alas, who wasn't able to maintain such a full and luscious arch.
Despite my early love-affairs with my tweezers (I'll spare you all the photographic evidence…) it always seemed like total common sense to me. Eyebrows, even though they don't really seem like they're there for a reason (expressions of shock and dismay aside) typically live in a certain space between your forehead and your eyeballs, they're generally of a certain uniform, but tapering thickness, and typically aren't, you know, bright pink.
Nor did they typically, I felt safe to assume, float up into your hairline, or decide to take random turns in random directions.

There's almost nothing I can say about these disasters. I cannot understand how self-expression turns into shaving your eyebrows (what!) and then drawing them on with sharpie markers (whaaaaaaaaat):
It's terrifying how frequently this kind of crap happens. It's infiltrated our internets, our subways, our bus shelters, our buses… our school systems, our places of employment and leisure… And the sheer range of the spectrum of brutal brow jobs is seemingly limitless. While on the one hand we've got a few excellent examples of chola chic,
on the opposite end one can see cases of full-blown hipster caterpillars:
Listen ladies, there's no need for this kind of excessiveness. Your foreheads have not misbehaved so drastically you need to punish them so harshly. That old addage that a thinner brow will make you look thinner is completely lacking merit, and furthermore what reason do you have for trying to fool everyoneone into thinking that you're THAT surprised or THAT angry all the time. Lady MObama, unfortunately, this time I'm looking at you:
And not only can one be found brow abuse based on volume, but as Tyra has so mercifully shown us, it's possible to ensure, simultaneously, that one have both too much brow and not enough at the same time—witness the bleaching of countless model-wannabes during the tantalizingly brutal makeover episodes that happen every cycle. Tyra, girl, please. WHY would you insist on a treatment for the "beautiful young women who stand before you" that can render Glossy Mossy a trainwreck?
Ladies, it's time to take a stand. Let's all stand firm and united on this front and resist the temptation of bad eyebrows! Our resident eyebrow evangelist begs of you, leave your brows be. They really don't need to be hacked up, dyed, removed completely, or elsewise maligned. A few quick plucks to get rid of anything in the middle, a few quick plucks to keep your eyebrows from rendez-vousing for a tryst with your hairline, a quick trim if you have eyebrows that are long enough to braid. Resist the urge to overpluck, cease and desist bringing that razor to your forehead, learn to love your brow brush sparingly and abide by the motto, in life and fashion, less is often more. Unless you're this guy:
Beautiful, slightly groomed, natural brows (even if Dov Charney thinks they're hot) are totally having a moment, and rightfully
so. I leave you with a warning—every time you needlessly pluck, god kills a kitten. And waxes off Tina Fey's eyebrows.
Surely, you have enough decency not to do that to Liz Lemon.
(style scouting and contributions by Becca Lamire)
As soon as Halloween is over and we get that extra hour of sleep, it's safe to assume that you can pack away your playsuits and hangover tanks and haul out your flannels, boots, gloves and jackets. While this biannual sartorial exchange is ostensibly fairly simple (ditch your lightweight cotton pants, stock up on tights and wool socks; hang up your unlined moto, bring forth the parka, etc), the range of winter-weather clothing is this weird, changing self-multiplying beast. Which is cool, you know, because how boring were the same knee-length, double breasted black jackets getting year after year after year. Fashion likes change, and it certainly loves options. But please, praytell, what's the good in piling layer after layer of jumpers, ponchos, capelets, capes, fur singlets, and scarves? What happened to things with sleeves that fastened in the front and kept all of your warmth inside? Why are we all walking around looking like a bunch of wizards?
It's almost as though everyone collectively forgot about appropriate proportions. If warm weather dressing meant wearing crop tops and maxi skirts, not knowing where your crotch was, and boots that thought they were sandals, the inevitable carry-over into the next season are coats that think they're shirts that think they're blankets, with or without sleeves. We're a pleat and a seam away from wearing the equivalent of our snuggies outside, like a bunch of Williamsburgers.
Don't get me wrong, I love me a good animal print, snuggie or not. And I loved seeing my favourite vintage stores stocked to the brim with those faux-leopard waist-length coats that were popping up everywhere all last winter. It was kind of cool seeing so many Edie Sedgwicks (and Edie Beales, for that matter) walking along Queen St. Spending what feels like six months of Toronto winter on a subway looking at a sea of black pea coats is undeniably boring, and since we can't do away with the cold, we may as well do away with the blahs. If your head has been under a rock since the F/W 2010 shows, you may be pleasantly surprised to learn that the next colour you'll get sick of seeing on the streets is that standby neutral camel, as evinced by the preponderance of this hue walking the runway and covering the blogs. That I can deal with (I've always loved a classic trench (in olive, no less!) or a brushed wool swing coat) but it's this crap I can't buy into. If it doesn't have sleeves, and it doesn't do up, you don't have the chic-est new iteration of the next best coat, you've got a poncho.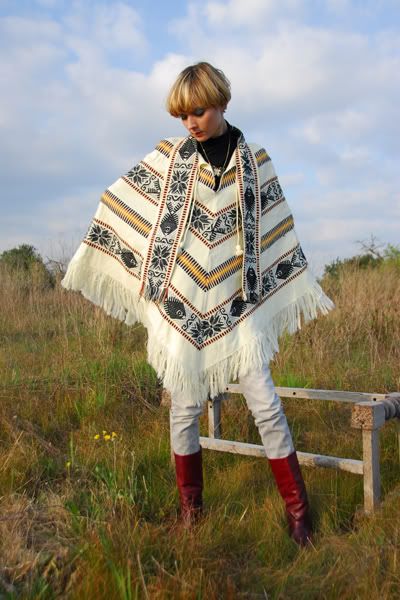 And realistically, how the hell is that going to keep you warm? How is this "jacket" or this "stylishly plush cold weather vest" (um… lol) going to keep your arms from going numb and your teeth from chattering? Why is fashion trying to 'reinterpret' The North Face disasters that everyone was too embarrassed to be seen in after the age of eleven? Everyone remembers how cool you thought you were when you resisted the puffy down-filled coat your mom insisted you wear when the temperature started to hit freezing, donning instead the unaissably amazing (and sleeve-less) puffy down-filled disaster, on top of about four layers of long sleeved thermal shirts. It looked dumb then, and it still looks dumb now. Besides, how practical is it to wear something a bunch of starlets in LA were wearing over t-shirts and maxi dresses when we're in the single digits?
The only way to make these make sense is by wearing them in multiples. Take your self, put on two or three layers of tights, maybe a pair of over the knee socks, a skirt or dress with long sleeves (or make sure to put in a long-sleeved layer UNDER a short sleeved dress), a sweater, a knit jumper, a waist belt to keep all your non-outerwear in place, AND THEN you can start to think about pulling on your vest, your elbow length gloves (an obvious necessity since your jacket doesn't have sleeves!), and THEN your shawl or cape, for good measure. By the end of it all you're as round as the Stay-Puft marshmellow man and you've got enough layers on to make a bag-lady (or an Olsen twin) jealous.
And sure, there are loads and loads of ways to make capes look good. There are oodles of blogs and runway looks that make capes look put-together and smart. Everyone was eating shit out of the palm of Chloé's minimalist hand when wave after wave of camel coats and capes traipsed along the runway. Cool. Beautiful. Tailored. Pretty. But in this instance I'm firmly entrenched in a function > fashion mentality that if the crap you put on to keep you warm does not succeed in keeping ALL of you warm, what's the point.
And let's face it, why do we need to look to American mass-market brands when, if we insist on wearing our coats like blankets, The Bay has had that shit on lockdown since 1670.
Ah. Another year, another summer, another fall, another slutty lead-up to Halloween (after which we can undoubtedly expect another two month lead-in to Christmas). In the immortal words of Cady Heron, "Halloween is the one night a year when girls can dress like a a total slut and no other girl can say anything about it."…And so it goes.
As can be expected, any time a vaguely pagan holiday can be resurrected and commodified, you'd better be sure that it's going to laden and plastered with every single signification we can come up with of our tumultuous times. Ergo, whatever your costume needs, you can be sure it find it in droves, and sexified, at your local friendly, transnational costume retailer.
Thus, if you need your sexy, cross-dressing Michael Jackson, we've got you covered.
If the only thing that speaks to you this year is a sexy cell-phone costume, BB WE GOT U.
If you need your sexy Finding Nemo, you're in luck.
What the hell has happened to our sense of decency? I hate to sound like an old fogey but I miss the days of Halloween wherein you were excited to dress up like a three-legged man with your best friend (and no, not that kind of three-legged man). Every year that I see fewer witches, ghosts, goblins and ghouls I get more and more depressed. Each person who doesn't dress up as a witch, ghost, goblin or ghoul contributes to the overall population who could possibly think that this makes a good Halloween costume:
"Duh, I'm a wolf?"
I mean, I know I sound like I'm 82, but a line needs to be drawn into the sand between covering up and baring all. That line, I would venture to guess, is creativity. And while sure, I get how a Droopy Tits Hooter's costume (it's real, it exists) is creative, it still falls waaaay short of being good.
Maybe I am older before my time. I prefer people to be dressed, not just wearing clothes. It's why I insist that being buttoned up to the collar and wearing well-cut trousers down to the ankle tends to look a lot hotter than slapping on an AA double-U and calling it a night. Maybe the fine line that I'm trying to draw here is taste: in other words, how not to look like you've got your goodies for sale, dirt cheap.
[/caption]

I hate that all it takes for a costume this day is a pared-down, deconstructed, declothed whatever. I can't get behind any of this nonsense because all it seeks to vindicate is the fact that our culture can sexify anything. Sexy Moon. Sexy Garbage Can. Sexy Hobo. There's never not a right time to dress as a sexy anything. I bet this year I'll spot a sexy terrorist at the bar.

I guess that's no shocker.

Why do I have to sound like such a broken record? Halloween costumes have become so banal in the years of late since everyone has decided that final frontier for shockingness has become the baring of skin. Little attention needs to be paid to how said skin is displayed, all we care about is how much nipple we get. The infamous boob costumes are therefore no exception. I guess the next step is just to dress like a labia… o wait.

I guess I'm still a bit of a purist. I just don't get these costumes at all, since I grew up possessing the attitude that Halloween was all about ghosts and ghouls and scary things. When you're agreeing with Then again, I guess when I'm agreeing with a Katy Perry twitter update I know some scary, weird-ass shit is going down. Maybe we'll all get a pass from scary shit this fall. I mean, we've already got our own Halloween mascot, terrifying pumpkin-head and all.

Wait a minute, everyone.

I changed my mind.

Please dress like sexy mice, sexy waiters, sexy newsboys, sexy-anythings. There's no need to be scary. We've already elected our own nightmare.
So as many of us venture off to eat (sometimes, many) giant dinners this weekend, in my benevolent gesture towards my fellow human being, I figured it's my sworn duty to ensure that as we're stuffing our faces full of stuffing, we do so in the chic-est manner possible.
Now in normal circumstances my rules are quite simple and explicit—no jeggings ever, no pyjamas ever, don't look like you slept in a dumpster unless its intentional, etc.—but I guess I ought to be prepared for a slight easing and loosening of this sartorial constraint, in keeping with the loosening belt buckles that are surely being liberated under dinner table after dinner table all over this our fair country.
Err, whatever.
Ok, the long and short of it is this—since we're all going to be near-comatose from tryptophan or some other mild hallucinogen on this tastiest of long weekends, comfort is of the primary importance. Just this once, just one weekend out of 52, I am prepared to allow my superficial aestheticism slide and recognize that there is no way I am going to fit into that panelled pencil skirt until at least Wednesday.
Needless to say, however, these are not an appropriate solution. What is there to do, though? All we want to wear are drapey tops with leggings and cute boots so that we can eat sixteen helpings of pumpkin pie and feel fully sated and happy. I get it, I truly do. On scoop number three of stuffing I'm realizing that my belly-button-grazing jeans are starting to feel a little (ok, a lot) tight and that if there was ever a time to repeal my ban on things with elasticized waist-bands it should probably have happened when I was getting dressed today.
Alas! But with monstrosities like this and this, and this, and this and this, and so help me god, these allowed to exist and proliferate I feel like it's my absolute duty to stride onwards, fearless and firm, in the face of such an fashion onslaught and scream from the rooftops the need for flies, zips and buttons. People! We must not let these prevail.
So while I'm not prepared to concede absolute defeat, I can empathize with the impulse to open that dreaded leggings drawer or neglect to put on a real pair of bottoms in some other manner. So if ever there is an appropriate time to wear pants or skirts with an elasticized waist-band it would probably coming to or from Thanksgiving dinner. And I mean, that's cool, provided you and Aunt Pam's stirruped-bottom cotton pants aren't so identical that your dad asks you if you went shopping together.
That being said I think we should maintain our composure. There are lots of potentially awesome looks that can incorporate leggings or skirts with stretchy waistbands that don't look like you're wearing yoga pants or maternity tops. That also being said, there's also no need to try to rock a just-off-the-runway look (to have dinner with gran and gramps and your folks and extended family, why would you?) While you may think that your chic harem pants are comfortable and forgiving and the ultimate clothing experience (not that, of course, anyone who reads my posts would, obvi)—the opposite end of the spectrum may sometimes be too far of a jump.
Nevertheless, in the spirit of cinnamon and cloves and allspice and carrot cake, I'm granting us all a universal reprieve this weekend. Rock those jeggings to dinner and home, and eat a third a third scoop of vanilla ice-cream just for me. Just this one time I'll pretend not to see that gravy stain on your thigh.
On most days, you'll never hear me admit to watching The City (or The Hills or ANTM or…) as religiously as I do (which is to say that once a full season comes out I sit avidly glued to my computer screen watching it over one of those free streaming websites for about 48 hours). But, well, gulp, I do. And that show has given rise to a number of verbal expostulations screamed exasperatedly at the screen ("god Olivia why are you such a tool!", "did Whitney get dressed in the dark this morning?", "holy shhhh Olivia why are you such a bitch", or the most frequent "… … … I don't even…"). So while I think (along with every other  person with half a brain cell) that Olivia Palermo is the ultimate of twits, the one time I kind of liked her was the time that she was sent along Canal St to do some "executive reporting" on the black-market-trade of counterfit and knock-off designer goods.
Let's face it—we've all tightened our pocket-books and belt-notches over the past few years, becoming savvy and critical shoppers and always making sure that our dollars are going as far as they can. I'm sure I'm not the only one who has ever purchased a Channel wallet from Kensington, or eyeballed a pleather Mulberry Alexa bag with a sticker price of several decimals smaller than its authentic brethren.
Sure, maybe your moral twangs forced you to abandon that second, longing look and forced you to keep walking. You couldn't ignore the nagging sense of propriety that recognizes that the purchase of that black market bag renders you complicit in some illicit activity. It's obvious—the designer's name is misspelled, or a dress is offered in a print or colour you've never encountered before, or the cheap pleather disintegrates between your fingers or… nonetheless, you know that what you're holding is a fake, a counterfit, a knockoff, and that the designer of the improvised dud you're currently beholding will receive absolutely zero of whatever ludicrously affordable price the retailer is asking. It seems pretty black or white—go big or go home; buy the real thing or don't buy it at all; support the arts and not the rip-off manufacturers.
And us budget-conscious "recessionistas" (I cringe whenever I hear that word) often know better than to endorse these fakes with our hard-earned dollars—so we keep on walking towards the nearest H&M, Forever 21, or Zara, bringing our legitimate wages in the hopes of buying some legitimate merchandise, hopefully, maybe, sort of, kind of, maybe, inspired by that enormously covetable Miu Miu F/W 2010 collection, maybe.
I guess what I'm really trying to get at is, well, what's the difference? On a recent trip to the Topshop pop-up a few weeks ago I grew absolutely smitten with a pair of inspired, plat-form oxfords on the feet of a leggy could-be model, who was debating whether or not these beautiful shoes were worth the embarrassment of being caught wearing High Street knock-offs of higher-end shoes currently in the possession of a dear close friend. "What if I wear them when she's out? I'll never live it down," she pondered. Compare, and contrast, if you will, the sheer mirth that the majority of the major bloggers you follow manage to nab a piece that is "runway-inspired," or, in the new lingo of this post, a legitimized knockoff. How many times have you seen the F21 platforms on the front pages of your most frequented blogs, prefaced or immediately followed by "don't they look just like the real ones?" (or, opposingly, "these things are effing hideous"):
A few years ago the legally notorious F21 underwent a series of "intellectual plagiarism" lawsuits brought forward by a number of independent designers and retailers, lambasting the brand with having blatantly ripped off their goods. Some similarly high profile cases came up (Alexander McQueen vs Steve Madden, for example, or this blog's running commentary on the egregious sartorial sins of F21), with inconclusive results (apparently, fast fashion corporation's blatant copying of designs, prints, cuts and silhouettes is notoriously difficult to effectively prosecute in the United States, whowuddathunkit?). With the majority of copyright infringement, or "intellectual plagiarism," or unauthorized borrowing, or whatever else you want to call it, cases being settled out of court comes the inevitable result of a very conspicuous and misleading marketplace for ethical consumers.
Don't get me wrong—I'm really not all about supporting consumer practices that could, say, fund terrorist organizations, or engage in sweat-shop employment practices, or prejudicial employment standards, or… but there's still that part of me that wants to run to Aldo's clearance rack and scoop up a pair of their interpretation of the motor-cycle inspired Faithful's (since, afterall, it would be incredibly gauche to try to find a pair of the virtually identical shoes that Steve Madden was sued for producing).
And I know that no one willingly wants to support an industry that is famously touted as diverting millions of dollars in retail purchases from real design houses. But, I mean really, it's kind of a 'symptom of our post-modern condition' (don't worry, even I want to punch myself for saying that) that the black-and-white of the legitimate v. illegitimate item has been reinterpreted by various hues of grey. What do you call, then, a licensed fake, like the conceptually challenging Murakami "Fakes" that were authorized by Vuitton? (In an even weirder twist, these emblazoned fakes were also authorized to be sold at pop-up vendors who were intentionally made to resemble counter-fit market boots during the duration of the gala).
Even though all of the above is old news, it's worth taking a second thought about what your consumption choices demonstrate, or the politics they enact. Do you decry fast-fashion shops for riffing on designers but bop your head to every Girltalk song? Do you cut the H&M tags off of your look-alike pieces as soon as you get them home so no one will know? Or would you willingly rock the shizz out of one of these until financial circumstances prevailed and you could buy the real thing (apparently a motivation for at least 40% of all black-market purchases).
I'm a bit hesistant to call this instance a true "Fashion Victim." As ideas and influences get watered down "from runway to realway" by thousands of retailers following every runway season, it's proving more difficult to be cut and dry about the ethics and morals involved in this murky water. I bought a pair of clogs a few months ago—I love them to bits and wear them all the time, but they sure as hell aren't Chanel, and I think I'm ok with that. And while the flag-bearing leftist in me is screaming for the democratization of the fashion industry (ugh, how gross), it's a useful position to consider the next time you're eyeing that gorgeous shade of taupe nail polish that you sure as hell aren't buying from a legitimate designer cosmetics booth.
Who really profits? The established designer whose goods and brand persona inflates from all the grey-market exposure, the eagle-eyed shopper who buys that consigned designer piece, or the fingers of the per-item-wage-labourer overseas, who was responsible for the manufacture of your favourite new-closet addition. No judgment here, just an invitation for contemplation.
Then again, who knows—maybe if the proposed IDPPPA Bill passes in the States, you might not get the opportunity to scour your favourite go-to shops for off-the-runway inspiration pieces anymore.
(full disclosure: photos for this article were published without the consent of their originators. Sorry!)
With the fashion world agog this week as NYFW revs up for another season and celebrities dazzle (or bore) us during TIFF, there's a plethora of faux pas ripe for the picking for this week's Fashion Victim. Fashionistas are poring over runway collections and dissecting piece by piece what show-goers and red carpeteers have been snapped wearing. Under normal blog circumstances, this would be the ideal opportunity for trend forecasting and planning your next wardrobe purchases for the next six months, but let's be real: it's always more fun to mock the don'ts than it is to heed the dos. So here I am, generously fulfilling my Sartorial Civic Duty by mercilessly lambasting one of the worst trends to have developed and gained popularity since the fashion world decided to do away with butts for good: the harem pant. And not just the harem pant,  but the equally unfortunate rear-ended disasters known as the jumper, or the even more beguiling version you've been trying to ignore all summer, the romper.

Each of these equally misguided items all serve the same related purpose: the complete obfuscation of any hint of junk-in-the-trunk in favor of the alluring allusion of ass-sag.
Surely there is no need to remind you the deplorable state of affairs when we forsake the calls of vanity and favourable self-representation in exchange for rocking the diaper's-full look. The effect that I'm getting at here is none other than the effective sartorial recommodfication of that lustful droopy sweatpants look we've already explored before in detail.
Yet nonetheless these much maligned bottoms continue to proliferate on the stylishly skilled and unskilled alike. Punch either term into StreetPeeper and you'll find pages and pages of some poor stylistas rocking these out somewhere; we look on with dismay as our favourite bloggers attempt the impossible by wearing them out in daylight (a sheer pair, nonetheless!).
One of the main concerns that must be addressed is why we are fetishizing a trend that effectively makes looking like you shit yourself seem hot.
Rompers (even well-fitting ones) frustrate me enough on their own for that whole Lolita-in-flowers thing (apparently I'm just a prude), but I can't seem to reiterate loudly enough how bizarre it is that all over the world, girls and dudes alike are trying to imitate toddlers who skipped their potty training lesson.
It's like the anti-sex appeal; it manages to simultaneously allude to both infants and geriatrics. And you know it's got to be bad when even MC Hammer won't acknowledge them.
At least the prospects of a new season of dressing will hopefully banish the racks and racks of cheap cotton versions cluttering up your local F21—because, I mean, we can't possibly look forward to another Spring/Summer of wearing adult Depends, right?
Well geeze. Thanks Thakoon.
So even though we are in the thick of things as far as regards fall fashion (I know, right? How can the summer be almost over!) and its requisite number of trends and looks—both amazing and otherwise—I'm not going to be covering that for you this week. Even though the Chanel F/W 2010 Wookie suits are one hundred percent deserving of the unique attention of a Fashion Victims post.
No. Instead of covering high-fashion Wookie suits, I  figured I'd bring you real Wookies. Yes, dear readers, I took one for the team and decided to get reeeeeeeeeeeeeeeeeally in the thick of things for this edition of Fashion Victim—I took to the streets and entered into most self-respecting individual's most horrifying nightmare: the world of comic conventions. I braved life and limb, body-odour and personal hygiene, sartorial sensibility and good sense, to do some live reporting and bring a world-exclusive in the form of half-tone highlights and lowlights of Fan Expo 2010, straight from the heart of the Metro Toronto Convention Centre.
Nerd-bashing aside, comic cons offer a singular vantage point as far as social observation and criticism goes. No longer forced to lurk in the shadows of parent's basements, lit up solely by the blue glow of a computer screen, comic cons are a veritable mating grounds for those of the geekier persuasion—it's like their prom, fashion weeks, and birthdays all rolled up into one convenient weekend at a convention centre.
Bedecked in full dweeb plumage, thousands of kids you (or someone you know) picked on in high school roam wildly, browsing tables upon tables of action figures, graphic novels and foam swords. There are hundreds of them, lining up to play beta releases of their favourite video game's sequel or sitting patiently in clusters on the ground waiting for Stan Lee to get back to the autograph table. Every now again you hear the mating ululation of one cos-player to another, eagerly spewing forth praise at the attention to detail and veracity and authenticity of someone's cape and ears. Convention centres are absolutely teeming with visually and sartorial stimulating things—some of which are actually, truly outstanding, but many of which leave you clutching eagerly at your shroud of cynicism and secretly jumping for joy when you remember that you did, in fact, grow out of your animé phase in elementary school.
So I thought, being the generous, warm-hearted and civic-minded individual that I am, that I ought to compile a sort-of how-to guide to navigating the mires of comic con fashions. These kinds of things, after all, only come around once a year, so one has a very narrow window through which to attract a potential mate, so really, it's in one's best interest to ensure that one puts its best paw forward.
Rule number one: just don't be a furry. Ever. At least three out of every five con-goers who aren't in normal dress think that a costume is complete if it's got ears and a tail. There were honestly a million booths selling hand-made furry acoutrements—tails, noses, whiskers, paw-shaped slippers, faux-fur vests, you name it.
I mean, what is personal style if not freedom of self-expression without reprimand. But seriously, like, come on. A headband with ears doesn't get you closer to your inner animal, it just makes you look like a moron wearing a headband with ears.
Rule number two: if you're going to dress up at all, spend some quality time making that shit look good. You don't have a status bar with your nerd experience points hovering over your head, so it's all about what you wear and how you wear it. Lazy costumes are lazy and look stupid. Sick costumes are the ones that you remember ten cons from now.
You owe it to yourself to make sure you look damn fine. Go big or go home. If you're assembling a costume yourself, don't skimp on nice fabric and well-tailoured flourishes. Glue-gunning a super-man logo onto a bed sheet and tying it around your neck may have been adequate when you were six and were running around your jungle-gym. At the not-so-tender age of twenty-five, you may want to look into investing in a legit red and blue leotard.
If you don't want to shell out a ton of cash to buy that Sailor Jupiter costume, don't fret. With adequate planning and anticipation, lots of really really awesome costumes can be cobbled together for not a whole lot of money. At the heart of it, comic cons are really all about celebrating creativity—whether artistic and visual, technical, or otherwise. A well put-together, at-home costume will totally stand out when contrasted against the handful of pre-fab polyester character imitation suits bought off Ebay.
This brings me to rule number three: be fucking original. At any given con there are undoubtedly going to be about twenty-seven Batmen, six Kiki's from Kiki's Delivery Service, and at least a harem of Harley Quinns.
So even if you have  a well-made costume and you're not a furry, you're one of many versions of a copy of a copy, really cutting into your ability to attract that perfect mate. Why not switch things up a bit—instead of reaching for that trusty red and blue Spidey suit, why not try to recreate, for example, Spiderman Noir. Why not, instead of just adding to the stupid number of Jokers walking around, you go for a villain who hasn't recently enjoyed his fifteen minutes in the lime light—a Man-Bat, for instance? Or a Killer Croc? If you do a good job on the costume and you've spent a little more effort conceptualizing your look, you'll probably get a lot more "Duuuuuuuuuuuuuude-I-can't-believe-how-awesome-your-Ghostbusters-proton-pack-is-it must-have-taken-you-a-million-years"s and strangers stopping to ask for your picture. No matter how cool a fully-voice-modulated Stormtrooper suit is, there is always a full-on army of them. But if you take the effort to perfect the details on your Desert Clonetrooper, maybe that cute girl who stopped to take your picture on Friday night will bump into you again on Saturday and you can get her email address or whatever.
Rule number four: if you're a girl, most of these rules don't necessarily apply to you. All you realistically need to be worrying about is baring as much skin as you possibly can. It's comic con, afterall. Most of these guys haven't been out in years.
Stuff like the above is perfectly acceptable. No, actually. It's encouraged, even. But having said that, if you're a girl, especially an attractive girl, with a good costume, it's like goddamn boner city.
Most of these characters are visual manifestations of what nerds have been wet-dreaming about for decades. Might as well give them what they're hoping for.
Rule number five: nothing will make you Japanese if you're not Japanese. The moral of the story here is that you won't be a very good Spike Spiegel if you're shaped like Danny Devito. Stick with what you know. The laziest costumes ever will be immortalized in con-goer's memories if you are a dead-ringer for what you're dressing up as.
Rule number six: you don't have to dress up. For every one good costume there are about twenty thousand people who should have just stuck to their cargo-pants-and-stained-shirt uniform. Now is probably the best opportunity to whip out your cleverest black t shirt with its dirty, witty slogan and hope for the best.
If you're not a complete dickwad, though, you'll quickly realize how vast the market is for nerdy t shirts. Bust out that awesome Marvel Universe t shirt you bought online, or your horror movie shirt, or your own original artwork lovingly screened onto an American Apparel t shirt. These are all appropriate options for con attendees, with the added benefit of you not having to dress up like sad loser.
The most important mandate that I've taken away from Fan Expo is the following: if you're underage or you have a kid who is underage, don't let them walk around wearing next to nothing, and especially don't let strangers take photos of them. Especially if those creepy guys have mustard stains down the front of their shirt, skullet ponytails, really expensive cameras with telephoto lenses and dirtbag moustaches. I can only imagine how gratifying it is to be a sixteen year old girl who's never had a boyfriend be stopped by strangers and asked for photos, but we all know what those photos are being used for. This is where the term "fashion crimes" becomes a little more emphatically literal.
Just a friendly PSA from your friendly neighbourhood hero.
Full disclosure: I hate inappropriately foot-baring footwear, as evinced—and I'm fully aware that I may be one of the only individuals on the planet with such a vehement hatred of warm-weather shoes. Alas. Yet I'm sure that I can't be the only person in the universe scratching their heads over these conflicted disasters. Topping the list of sartorial items that completely flummox me are those pieces which purport to be two things at once—jeggings, skorts, puffy winter vests (seriously, wtf?), tights with shorts, and boots with no feet.
These things first came onto the fashion radar a few years ago—Rachel Bilson rocked a nude pair for awhile a few springs ago and, admittedly, at first, I kind of followed. Cute, allowedly. Innovative, definitely. Perplexing, well, yes—but girl looked good. At least, for the spring of 2008.
Photos of her rocking those Maison Martin Margiela shoes she wore around that summer were covered by tons of blogs. The consistently maintained stance on these disasters were that they were horrendous—interesting, but horrendous. Covetable, but weird. Not entirely attractive, but still kind of cool. Most people conceded that they were, indeed, violating the laws of The Fashion Police, or whatever—but the longer they looked at them, the less egregious they became. All it took was one ahead-of-the-curve lady with a penchant for fine, fashion-forward footwear to re-set the sartorial standard to ridiculous.
As history knows, as soon as someone does something kind of good, one time, inevitably comes the inevitable flood of imitations. These awful shooties took a few seasons to catch on (unlike the similarly perplexing, super complex, and ridiculously obtuse knee-high gladiator sandal), but this summer I've seen a million and a half version of these bizarre, hybrid mutt-boots everywhere. High-street iterations of these ankle-sweat-inducing sandals started cropping up everywhere, much to the delight of pretty much every shoe blog, and much to my chagrin.
I earnestly entertained the hope that only the most outrageous of trend-hoppers would be interested in these this year, but I was sadly mistaken. Of course this new hybrid-species of shoe has done nothing but grow in popularity, out-menacing even the most preposterously bedazzled or otherwise en-fug-led shoe trend of the season. When a coworker opted to sport these at work (during a delivery day nonetheless—her poor toes!) I realized it was the last straw.
Ladies! These shoes are not your friends. They are not the perfect summer alternative to boots; they are not the perfect fall alternative to sandals. They are a hideously annoying cross between two perfectly good seasons that do nothing but leave me (and, honestly, every dude you encounter) wondering what the hell was wrong with the lights in your bedroom when you dressed yourself in the morning. Nothing, save for wearing socks with thong sandals, could come close to approximating the head-scratching fugliness of these creations. The following is hard for me to unsay—I'd always rather be interested than bored—but in instances like these, I haven't any other choice: leave the fashion-ing to the professionals. Drop your mouse, back away from the computer, and recognize that, sometimes, Maison Martin Margiela is the only way something can be done right. Chances are, it will be done two years earlier than you'll first encounter it on your regular neighbourhood fashionista, but chances are, by the time you see it on the feet of your streets, it will be abnormal (and not in a good way), and too bizarrely passé.
Even if, truth be told, I kind of want to dare someone to wear these with wool socks in the middle of November just to find out how it feels.
A few years ago a lit prof of mine, when introducing a novel, looked around the room and asked "Are there even any goths anymore?" We all pondered the question, mentally flipping through previous encounters with goths of the mall or cyber or romantic side. Inwardly I was elated. I hadn't seen one of these disasters in what seemed like forever. Yet, lest we celebrate too hastily, in traipsed a washed-out, pale-faced, skinny dreaded dude with a top hat and clunky platform boots who nestled into the front row, eagerly clutching his well-read copy of Wuthering Heights.
Aside from our resident mall-goth's amazing timing, the prof was right. At a time when some of the biggest and most inspiring faces in fashion are essentially taking all their styling cues from The Craft, one would expect to see a coordinated proliferation of run-of-the-mill goths that these styles vindicate.
Take a quick tour through the world of personal style blogs and try to count how many of the new taste-makers freely exorcize their inner goth on the regular—and then try to keep track of the thousands who run with it.
The entire fashion world mourned when the universally acknowledged enfant terrible Alexander McQueen died earlier this year, whose collections were stunning examples of gothic atmospherics and romantic cuts done so right. Names like Rick Owens, Rad Hourani, Martin Margiela, Gareth Pugh and the like are more and more frequently and legitimately on the lips of people who, ordinarily and previously, would have scoffed at their outrageous duds. The fashion world is increasingly vocal about its inclusion of weirdos, oddballs, and freaks—leave it to Kelly Cutrone to point that out for everyone—precisely the kind that would sit at the black-clothing-only table at lunch in the cafeteria, and who were wearing black lipstick before YSL and Chanel.
So clearly goth/punk/metal influenced styles are hardly flying below the radar. And also, clearly, when it's done well, it's done well. Maybe that's the reason for the significant dearth in goth-inspired looks that monumentally fail.
Luckily for us, the internet is a veritable treasure-trove of these wtf-goths. This probably makes sense. Just like furries convening en masse at last month's Anime North (I'll save those photos for another post, tyvm), true goths really can't flourish outside of their natural habitats (read: darkly painted bedrooms flickering through candle-light)—they've paid way too much money to ensure their pastiness is as pasty as possible (can't go out in the day, obv), and it takes way too long to draw on those impressive eyebrows (effort which, clearly, cannot be wasted on the uninitiated). Ergo, catching a few quick snaps of these reclusive sarto-fails is worthy of a prize akin to getting your fifteen minutes of fame on a blog.
So maybe that's it—gothspotting is a lot harder when it's sunny and warm because of the whole heat+PVC or leather = sweaty breasts and ball sacs (I'm here thinking back to that episode of Friends where Ross makes a mess of himself in his date's bathroom when he wears leather pants). I couldn't be more thankful. Goths must have learned their lessons the hard way the first time their carefully applied makeup looked less artistic than Gene Simmons after a particular energetic concert. And all the better for me—we don't need any more of our youths corrupted by gothic day-walkers.