Even in San Francisco, Rock and Roll and Fashion are like Sex and Condoms. I spent last weekend in the California desert surrounded by 75,000 of the world's broadest thinking fashion cats. I've since left the sunshine state to enjoy a little college company in the countries greatest Pacific city, Gangcouver.  Tuesday, I had the most delicious bowl of Earl Grey ice cream and tonight I'm going to some party in Gastown. Tough Life. But what's really important here is getting you the goods to Coachella. This year the festival upped EVERYTHING: more people, more music, more coverage. H&M interviewed me? It was weird. Anyway, so here's the low down on cool south o' la border.
CULTURE
The people were so dope that the music was just a treat. I made Whitney Port totally awkward  (as she should be), checked out Danny Devito's bald spot for a quick sec, and had Emile Hersh longing for my acquaintance. The Gobi tent (smallish) had some serious sound issues most of the weekend and by about 8:30 every night there were spots of throw up and dirty napkins  everywhere you'd want to rest a foot. But the kick and overall chaos of the event was so forceful in this park you got away with closing your eyes and moving around the clock if you wanted to. Slush Puppies et al. Tons of stuff to do. Rollerskating, swingsets, jumbo jenga, you name it really…entertainment on your side (with a wristband). I also met a nameless sandwich artist, he was so talented i cried.
GUYS must have wardrobe piece for summer 2010: Kilt
MUSIC
Beyoncé. Forever Young. Read the line up for yourself and feel a heart in your jeans. I missedThe Big Pink, so I bought their t-shirt, but everyone who saw anything was pretty alright with their experience. I was unimpressed with Matt & Kim, realized why they put Spoon ahead of Pavement very quickly, and I slept through the second half of Tom Yorke's set. Major Lazerkilled it. The xx KILLED it. Hot Chip, next to Yeasayer was the best set of the weekend. Vampire Weekend should do more homework and Phoenix was not nearly as unpleasant in an outdoor environment as I thought they'd be. I also saw a man wearing a Japandroids t-shirt and got really excited about Vancouver.
GIRLS make it yourselfable (ask your mom if you need to), Crocheted Poncho, for real.
FOOD & DRINK
Weiners, Tacate, Tiki Masala, Heineken, and store bought freestyle champion of the world choco choco chip cookies. Nothing less, nothing more.
Electro nerds Hot Chip got the kids dancing last night. Kool Haus shows have never impressed me and so I wearily approached the evening. My fears were unfounded, the show was sweaty dance floor perfection. My previous encounter with Hot Chip was on the West Coast and was a show that I doubt could be rivaled. Evidently I was mistaken, as new hits, old hits and remixed tracks made for quite the night.
Although their most recent record, One Life Stand, is easy on the instant hits, Hot Chip crafted a brilliant set list that pulled the audience in tow. Indie darlings The XX opened the night with a mellow show. I am a quite the fan, however as an opener for such an upbeat band I found the mood deflated post-set. Yet as roadies changed instruments, tested mics and brought a trumpet on stage, the excitement rose. The crowd condensed. The anticipation was palpable. Before the vibe reached critical mass, the band took the stage and at once hit us with Hand Me Down Your Love. The crowd roared, feet flew, sweat spilled. Audiences such is this are why I so feverishly thirst for live shows. The venue was sold out, Hot Chip was privy to true fans.
Few words were spoken to the crowd. Joe Goddard meekly commented how he liked this crowd before launching into Over and Over. Electropop heaven, Kool Haus rose 20 degrees, steam lifted off the sheer friction of hipster on hipster. Clearly a fan favourite, everyone in sight belted out the lyrics. My voice is still raw.
Hot Chip feels like a band of remarkably talented backup artists. The ubiquity of their skill astounds, like a record they rotate vocals and instruments. These kids learned to share, the spotlight belongs to them all. Felix Martin rose from the drums, approached the microphone and took over for Alley Cats. With notable exception, drummers tend to draw little attention. For Hot Chip, the drummer's talent is wasted on percussion alone.
Boy From School was lent a whole new sound. Normally a down tempo take on fleeting young love. Last night it was a pounding electronic hit. Hardly recognizable in this new form. I was soaking up the beat, believing it to be a new track before my ear caught the lyrics. The song is perfection in both incarnations but was aptly chosen to be an incendiary dance floor hit.
Like all concerts of worth, the end came too soon. There was no mistaking the crowd's demand, Hot Chip was returning for an encore.
Three more songs came. No Fit State was a game changer, there wasn't a still body in the house. But the culmination was the conclusion. Ready for the Floor's reception was wild. Clearly I am not alone in my love for it. Alexis Taylor, in all his subdued geekyness took the lead. The build up was unrecognizable, and so all the more impactful when Alexis commanded the crowd to "do it, do it, do it now."
Flawless concert. My faith in Torontonian crowds has been restored. Beyond musical fresh air, Hot Chip continues to command the electropop scene with pulsating beats and bizarre lyrics. All from a band one wouldn't expect. No doubt in my mind, coolest nerds around.
Here's the play by play for the 39th annual Juno Awards in St. John's Newfoundland, from what I can remember of course.
Thursday April 15,2010
I wasn't even in the door of the hotel, with Esther Garnick, our trusty publicist in town and Raf aka D.R.One of Team Canada and the Eh! Team (two separate things people) was already blowing up my phone to hit some eats. Lucky for him, the whole scrappy crew were holed up in the Franklin Hotel, so it was a short and collective stumble to everything. We hit up Velma's for some down home grub.
I almost cried when I ordered black tea and it came with Carnation milk as the side. Just like my nan's house.
I got Raf and Esther into the idea of Fish & Brewis (which is pronounced Fish & Bruise). A wet, cold snowstorm was rolling in and nothing sticks to your ribs better than cod mashed into hard bread soaked in salt water and then mashed like potatoes. of course with a side of toasted homemade whitbread and scruncheons (that's deep friend, salted pork fat for the newbies).
Skip forward to Rob Roy's and then Konfusion. We met up with some locals and this is what happened after…
Meet Kenny Mac and some Burt Reynolds shots. I didn't do one shot that weekend that didn't come on a tray.
Yup.
Not sure if you know much about Newfie cuisine. Plenty o salt, but no hot sauce. I mean hot sauce in Newfoundland is ketchup or gravy. Somehow the topic of the lack of hot sauce came up in the ladies bathroom at Rob Roy and bam! This girl just pulls it outta her purse all, "yup, that's why I carry this with me everywhere". Locals in St. John's will steal your heart no matter how resistant you are.
Friday April 16, 2010
On Friday, all the flights to St. John's got grounded. 60% of the people coming to St. John's were straight cancelled in Toronto, Montreal and most insanely in Halifax. The snowstorm of the night before was over, but now the fog had rolled in. Bands stranded in Halifax included: Down With Webster, Billy Talent, Wintersleep, handsome Furs and many more who don't have our cell numbers to kvetch. Even the ferries were stuck for two days but somehow we got this through…
It's the final touch for the red carpet for Heavy On The Right Coast. It came packed in legitimate hay from Michigan.
With nothing to do but wait, we entertained ourselves at Rob Roy int he afternoon while MuchMusic did some George Street fan fair. It's called a Dayboil for those of you new to the slang. Just for the record, our camera crew, Grandtheft, and Scratch fromt eh Roots and Skratch Bastid all made it in by some act of God.
Did I tell you about the time I met a woman at the bar in St. John's who loved Jagermeister so much she took a bottle with her everywhere in case the bar ran out?
You can't see the time code on that bar tab, but it's somewhere around 6PM at night. Day boil = pronounced "day-bile".
D.R.1
Esther went home for a nap and I went into the Cotton Club with the boys alone. Just before entering, there was a moment where they looked at me all "this okay?" to which I was like "umm, I'm like stripper velcro". 5 minutes inside and I already had my number circulated among the ladies who's real names I knew, every one. Many more drinks, a few lapdances, the re-emergence of Esther and a nice bartender who charged my phone later, and we were off to blue on the Water for some eats.
The Bastid made a speech. It sounded like "Blah Blah, shrimp, blah, Vodka Red Bull."
Team Canada now reunited we got two of the best Amazing Race into St. John's stories. #1: Grandtheft flew out Thursday from Toronto, circled St. John's in the storm and they sent them back to Ottawa. They refueled and went back to Toronto where he was turned away from a full hotel and slept in the airport before sitting on a plane for hours trying to fly out. #2 The film crew flew from Quebec to Montreal, then to Halifax, then to Gander and then onto a provincial flight to St. John's, but not before one of our guys remembered they'd left his iPhone in the airport. No worries, he stopped the pilot who radioed in for it and had a baggage handler run it out to the plane where he opened the plane window and grabbed it.
A celebration ensued.
Saturday April 17, 2010
Show day. I woke up bleary eyed from a thousand cocktails, a full round of dinner and a vague recollection of a sea of G-strings.
Luckily, my good pal Balfour was coming in for the party.
We headed over to the venue for sound check and operation bell. Luckily in Newfoundland you don't have to look far for a man with tools in the back of his truck. Our friend Kevin, who owns the Majestic, was happy to oblige and drilled the 100lbs bell into a metal Red Bull fridge with Kenny.
It's safe to say that Heavy On The Right Coast was THE party of the weekend. Here's a few photos to give you a feel for the festivities.
Down With Webster
Ben from Billy Talent
Two Halifax locals re-united: Skratch Bastid and Classified
Our boy Drake who hosted the soiree
The crowd inside during Scratch Skratch Scratch
Dude from The New Cities and Liz from Much.
Drake got on stage with Scratch Skratch Scratch to say wassup to NFLD.
This pretty much sums up the vibe.
K'Naan's rehearsal for Waving flag got bumped to super late, so it was nice he showed even after the grueling day he had.
Skratch Bastid, the man of a million smiles.
Jian Gomeshi flanked by two good looking broads.
Big thanks to Lisa and the Majestic and Kevin english for procuring a much needed bottle of Dom when the entire island was cleaned out.
Later on that night…the mainlanders got screeched in at Rob Roy (this video spawned a bologna fight of epic proportions)
Sunday April 18, 2010
We decided to switch it up and try something new, so we got tanked in our hotel rooms before hitting the town to gloat. Word to the wise, Absenth is major truth serum and maybe not the best idea before heading out.
Seeing as Kenny Mac is from Vancouver, we figured we'd vote him in to cook up the Absenth which is actually very light and pleasant.
Also tastes lovely washing down foie gras, mixed with champagne.
Two bottles of Moet and a bottle of Absenth later and Skratch Bastid decided to sort of make a fat joke with Esther. She took it as her cue to leave and get ready for the night. He ran after her and then Grahmzilla attempted to stop him. It ended with them in a pile at the door of the room with Esther doubly mortified.
Still more than fantastic for a laugh.
Ran into Hurricane Deeds in the bathroom at the Majestic where they were serving up free pizza and crickets in the room. Scrappy crew included myself, Grandtheft (D.R.1 had already flown out), Skratch Bastid after a time out nap, and Kenny Mac. We lost Esther to her bed unfortunately.
At the EMI party
Grandtheft got really touchy about his flower and fully called me out like the bestie that he's become in the last two years.
Two parties down and we headed back to Blue on the Water which had become like our home away from home by now only to run into Kevin English and crew already knee deep in the Dom.
Turns out the Universal party was right next door at the Gypsy Tea Room, which was nice cause we added Ryan to our crew.
He sheepishly accepted my offer to try a glass of Veuve since Kenny Mac and I were in a heated debate about Veuve vs. Moet by then.
I parked my drink in Jen's umm, shelf while I made an important phone call to this guy alerting him I'd stolen his manager/brother for the Veuve taste test.
Also, not for nothing ladies, but this picture represents one of the worst/best ideas you'll ever have.
By Monday the flights were cancelled again and it was back to the Amazing Race off the island. We all made it out, a little bruised, a little tired and happy to be home.
As stated by the informative Wikipedia, "Major Lazer is a fictional cartoon character, who (according to press releases) fought as a Jamaican commando who lost his arm in a secret zombie war in 1984. He fights vampires and various monsters, parties hard, and has a rocket-powered hoverboard."
DJs Diplo and Switch collaborated to make this character and release the album, Guns Don't Kill People…Lazers Do. It was released by Downtown Records on June 16, 2009. The album has guest vocalists such as: Santigold, Vybz Kartel,  Nina Sky, Mr. Vegas, T.O.K., and others.
We have 20 questions with Major Lazer for you.
1. What is your dream of happiness?
Mi done happy arready. Mi live inna bush, bun a big head spliff every day, and nobody naw mess with me.
2. Blonde or Brunette?
Mi love di blonde dem but brunette gyal ah keep mi heart.
3. What is the quality you like most in a man?
Me nuh qualify man.
4. What do you fear most?
Me nuh fear nutten. Yuk neh see mi lazers dem?
5. 808s or 909s?
303s
6. What's your biggest regret?
Bwai…hmm. Good question. Mi nuh really have regrets, mi jus live mi life. Zeen?
7. What's your fav bar or club in the world?
Mi have mi own bar inna Trinidad. Mi love dat one di most. Yu see it?
8. What's the thing you can't live without?
Reggae music!
9. What are the 3 musicians dead or alive you'd like to see perform?
Bob Marley, Michael Jackson, and mi love Sade. Tell Sade come do a record wit di Major.
10. what is your favourite decade in music?
It's a 90s ting.
11. If you had to choose, would you rather go blind or deaf and why?
Mi woulda go deaf so mu can still see di sun rise.
12. How old is too old?
Yu neva too old! Every day is a celebration.
13. Where do you see yourself in 15 years?
Bwai…mi want Diplo sell a couple million ah dem Major Lazer record, so mi can jus relax.
14. Who's your hero?
Badman nuh keep hero. But big up Obama still.
15. What's your favourite colour?
Green. Like Hulk.
16. What song could you live without ever hearing again?
Pon D Floor!
17. Metallica or Madonna?
Madonna! She bad eeh!
18. What's your most hated vice?
What, the Magazine?
19. Who is the most tragic figure in history?
Buju Bandton get a raw deal!
20. What are the top three live shows you've seen in your life?
It nuh even matter. Come to a Major Lazer show. Top show yu eva see inna yu life.
We LOVE Major Lazer.
Oh…and go see them at Sound Academy April 24th.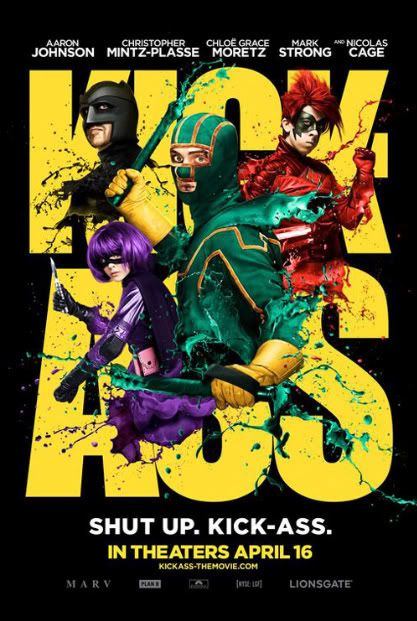 Plot Synopsis:
Dave Lizewski was just a regular kid; a nobody. He just liked to read comic books and pleasure himself just like any other teenage boy, that is until one day, when he started to wonder why no one has ever really tried to become a super hero, like, in real life! He set outs to finally be someone; a super hero like in his totally awesome comic books.
Genre:
Comedy/Action
Starring:
Aaron Johnson, Christopher Mintz-Plasse, Chloe Moretz, Mark Strong, Nicolas Cage
Director:
Matthew Vaughn
Review:
First, let me say that I was forced to sit in the second row from the front while watching this, so my review might be a little whoozy thanks to the severe nausea I'm still suffering from due to my head being at a 90 degree angle for two hours. Second, Kick Ass was just that; totally frigin' awesome. I haven't read the comic books, so I can't give my review from that perspective, suffice it to say that I absolutely loved this as a movie.
Aaron Johnson didn't disappoint. He's totally do-able and a great actor. I prefer him in a more rugged role (see: John Lennon in Nowhere Boy) but I guess if I hadn't seen him in this after that, then I wouldn't care either way. Nicolas Cage was awkward, and I've heard from people who have read the comics, that he was miss-cast, so I'll attribute the creepiness to that. (I still love me some Nic Cage, though! No hating here!!!!) Chloe Moretz was frigin' awesome and made me wish I could be an 11 year old super hero. There's more than one scene with her kicking more ass than any of the guys in the movie which was another perspective that I loved; not only was she a girl, but she was a kid, too. No stereotypes and cliches here, my friends!
Music was dece, but I wish there was more of it. They only used about two good songs in two of the fighting scenes, and that was it. They did fit really well into the parts they were in, so I won't get super mental on that perspective.
Special effects and cinematography were awesome. Lots of explosions, lots of ass kicking, totally fab.
Overall, I give this movie a 5/5. Perfect for a Saturday night when you just want some damn good entertainment and laughs!
Watch the trailer here.
When it comes to the worlds of fashion photography and fragrance, two is always better than one…The Society presents Balenciaga Paris & The Facehunter at The Bay.
Yvan Rodic a.k.a "The Facehunter" has become a household name in the world of fashion blogging for his iconic photos of various style-savvy individuals from around the world.  Rodic is currently celebrating the release of his second book, aptly named The Facehunter.
The book is a compilation of Rodic's most memorable photographs from his street style blog. To date, Yvan Rodic has travelled to nearly thirty countries where his focused mission continues to remain clear: to capture photographs of real people and their personal styles which reflects the incredible diversity of fashion from around the world.
As for the fragrance aspect of this 2-for-1 meal deal, Balenciaga is also celebrating a special launch of their own: Balenciaga Paris. This fabulous perfume marks the couture fashion house's first major launch in nearly 12 years.  Created by perfumer Olivier Polge, this fragrance is considered to be a Floral Chypre (pronounced "shee-pra" – a French classification name for a family of fragrances).  Balenciaga Paris edition is the first release in a series of new fragrances by the French brand.  Each fragrance will be released in the same bottle – a blown-glass pot inspired by the classic Balenciaga silhouette which is, as the French would say, magnifique!
In celebration of these two fantastic launches, I will leave you with a fabulous quote by Mr. Yvan Rodic himself: "Fashion is what you buy, Style is what you are."
Words: Carine Rozen
By now, you've been following our Juno coverage like hawks and you know we're having a party in St. John's for Juno weekend called Heavy on the Right Coast. You know it's going to be hosted by Drake, that it's probably the best thing since sliced bread and we are boss. Well here's the other two groups playing in addition to Grahamzilla. ION Magazine who teamed up with us to make the snazzy Hip Guide to St. John's wrote the following content. They aren't bad themselves.
Team Canada
If you've been to a decent party during the last few years, you've probably heard (and heard of) Team Canada, the DJ duo individually named D.R. One and Grandtheft. The pair are at the forefront of mash-up party jam tours and are branding themselves with towering titles and re-workings. They're on the late DJ AM's management team and are in charge of their own Canadian crew; The Eh! Team. Just the sight of their stylishly re-animated Montreal Expos ball caps should warn you that you're going to be out way later than you originally intended. Team Canada wants to make you scream and shout, and do so with blinding accuracy. D.R. One and Grandtheft are as professional as a DJ/producer duo can get which easily let them uproot themselves from Montreal to places as far away as China.
In addition, Grandtheft is co-founder of the record label Tremendous Records, an imprint on Last Gang Records and a digital label focused on releasing singles and EPs from emerging artists worldwide. With releases from Keys and Krates, Barletta, Love & Electrik and always featuring a remix or two on the metaphorical b-side, expect to hear the sound of future pop coming from this label. Our two heroes are polite, humble, and champions at their craft, and what's more Canadian than that?
Words: Trevor Risk, ION Magazine
Scratch, Skratch, Scratch
Combining the skills and talents of three hip hop artists comes Scratch, Skratch, Scratch!. The Trio features two battle DJs, DJ Starting from Scratch and Skratch Bastid, as well as a beatboxer, Scratch.
Scratch, Skratch, Scratch! is a madhouse for talent as each are well known and versed in their respective fields. Halifax's Skratch Bastid is not only a world class battle DJ but is also one of the best party rockers on the face of the planet. 2010 has already seen him headline the Red Bull Thre3Style Canadian Tour to 10's of 1000's of people in 11 cities across the nation.
Scratch's fame originates from his beatboxing with Grammy Award winning group, The Roots. DJ Starting from Scratch holds it down live 5 days a week on Toronto's Flow 93.5, tours the world as Russel Peter's and has worked in the studio with many prominent recording artists, including John Legend, Kardinal Offishall and Faith Evans. With four turntables and a microphone, these three powers bring a unique party that is sure to deliver. Oh, and one last thing: Scratch!
Words: Jenkin Au
Words: Jenkin Au
Making the trek out to St. John's for the 39h Juno Awards celebration? Us too. And cause we are all about getting on things before they get on us, we teamed up with ION Magazine to bring you a guide to what's good in St. John's. If you're traveling to the Right Coast, you can pick up a printed on on the other end, or you can just use this handy guide over the weekend too. Don't say we don't care, cause clearly we do!
ION Magazine and Pink Mafia are proud to present the St John's Hip Guide. As the Canadian music industry descends on St. John's for the Junos, it's likely they're going to feel lost and confused as they're in unfamiliar territory… much like how they've reacted to that thing called the Internet. In here you will find all the facts and information you need to help you survive your visit to The Rock. In addition, we've given you a quick taste of some of the rising musical talent this great country has to offer.
Below is a fun article on Toronto's own, Drake. He's also hosting our shin dig in St. John's, Heavy On The Right Coast. He's on tour right now with our boy k-os and we couldn't be more proud that the biggest hip hop sensation in North America right now is one of our own.
Exploding from Toronto is rookie artist Drake, aka Aubrey Drake Graham. Initially known for his role in Degrassi as Jimmy Brooks, Drake strongly reached into the music scene with three powerful mixtapes. These three mixtapes, Room for Improvement, Comeback Season, and So Far Gone, spawned hit songs that hit airwaves across the globe. He shot to fame with his single "Best I Ever Had" and along with his close affiliation with famed rappers such as Lil Wayne, Kanye West, and Jay-Z, Drake secured his presence within the industry. Still yet to release his full debut album, Drake has already been nominated for several prestigious awards, most notably MVP of the year from B.E.T. and Best Rap Song from the Grammys. Drake, signed under the Young Money label, is set to release his debut album in May of 2010.
Next for Drake are nominations for the Juno Awards which include Best New Artist, Single of the Year, Rap Recording of the Year for "Still Fly" and Rap Recording of the Year for "So Far Gone." In the meantime, expect more powerful collaborations with a greater variety of artists from this prominent newcomer.
Words: Jenkin Au
Bloomers
This is one of the first years that the Juno Awards have seen a wide representation from Canada's rich and diverse music scene. With other awards like the Polaris Prize and Galaxie Rising Star gaining popularity, the exposure of otherwise unheard albums are becoming a real force to be reckoned with. The two alternative categories boast nominees like Amy Millan (of Stars fame), Cuff the Duke and Handsome Furs. They've been put up against former "indie" sweethearts, who have since turned into powerhouses like Tegan and Sara and Metric.
This shows that the independent scene has begun to rear its head in mainstream award shows. Importantly, Canada's hippest albums aren't just being found in the alternative categories—Great Lakes Swimmers and Bell Orchestre have found themselves nominated in Roots and Instrumental (respectively). Once a small time record label, Arts & Crafts have a huge showing this year, with five of the projects nominated. It won't be long until other great labels like Paperbag Records (You Say Party! We Say Die!) or Out of This Spark (The D'Urbervilles, Diamond Rings) are finding their acts going head-to-head with The Tragically Hip or Nickelback.
Next Big Things
Canadian music is one of our best natural resources. There's so much talent that the country is practically bursting at the seams; and pretty soon, people are going to go nuts for it. With mega-festivals spreading like wildfire across the country, it's no secret that Canada has a lot of serious artists on the rise. Though they didn't make the Juno list this year, there are a few acts that you're going to want to watch out for as a new year of nominations comes forward.
Toronto's Woodhands just released one of the year's hottest albums. Still sizzling from their debut Heart Attack, Remorsecapade could not be a stronger and more evolved follow-up. Featuring some killer dance tracks, Woodhands are ready to get serious as contenders for making their place in the music world. If you're looking for folksy alternative, try Paul Banwatt's other group, The Rural Alberta Advantage, who were recently picked up by Saddle Creek. Paperbag Records label-mate CFCF is quickly becoming one of Canada's strongest remix artists. After making a place for himself with Crystal Castles, the boy packs a remix punch, featuring remixes of most of his Paperbag Records friends, not to mention his own wicked beats.
You Say Party! We Say Die! have been catching up with us as they traverse from East to West this great Canadian north in what is only loosely referred to as "springtime" which is a relative term for Canadians.
End of the night at Amigo's, Saskatoon. Great show, great food, great place.
We hit a brutal blizzard driving out of Saskatchewan towards Edmonton, wind gusts were up around 100km/h and there were a lot of highway closures all over the province. What is usually a five hour drive ended up taking about nine as we inched our way through the whiteout. This was the first glimpse of sun we had seen in hours, near the Westernmost point of the storm.
A herd of elk in Jasper National Park. Always nice to see the rockies again after crossing Canada, they mark the beginning of the final home stretch.
Tattoo salespeople in Prince George.
Our sold-out last show in at UNBC in Prince George.
Hailing from NYC, Gina Turner rocks parties coast to coast and across the globe. She's gained recognition from heavy-hitting producers for her signature house sounds and continues to pump out original tunes. Check out what Gina has to say about being a girl in the industry, upcoming collaborations, and advice for aspiring DJs.


How do crowds differ between coasts? Do you prefer one over the other?
LA is open to a lot of different genres of music. I can't choose a favourite, but New York is my hometown and LA has beautiful weather! The crowds definitely differ, but I would say in New York I tend to play a lot more old school house stuff, and in LA, harder stuff.

So you tend to gear different styles of music toward specific parties?
I like to stick to my guns, but for the most part, I don't think a DJ is a real DJ unless they're able to read a crowd. I show up to a party and see what kind of crowd it is; I wouldn't be a DJ if I just played something totally unrelated. I always try, no matter what, to educate my audience and elevate my audience through that way. But at the end of the day, you want to make people dance, that's what we do.

What tracks are big on the scene right now?
Well, I am really excited about my side project with Laidback Luke called Nouveau Yorican. I'm just so blessed and excited to see the crowd reactions to those tracks that we're making together. Also, I'm really excited about what an artist called Julio Bashmore is doing, and another artist, Solo. I'm just really excited about their sound, very exciting and fresh. The Dutch sound is huge right now, as well; it's going over really well on the dance floor.

Do you find that being a female DJ works in your favour? Do you feel a lot of competition from guys?
It works in my favour and it works against me. The way it works in my favour is people, guys especially, will think that I don't know what I'm doing, and then when I kill it (I don't want to sound totally full of myself), but when I have a good set, people will be like "Woah!" and even more surprised. And that's what drives me nuts, because you get a lot of "Oh my gosh, you're such a good DJ for a girl!" I don't look at it as me being a girl.
I feel like still there's a lot of stigma against female DJs, for real, and females in any industry, for this matter, which is really sad. That just makes me want to work even harder. In that way, it totally works in my favour because it adds more fire and more drive; it gives me even more passion than I already have.

Do you have any favourite DJs from who you draw inspiration?
Oh, absolutely! I love love love love love Derrick Carter, he's like my favourite DJ to watch. He just plays classic jacking house sounds, but yet not fully hard. Of course, people like John Tejada, I like his subtleness. Also, the people around me inspire me so much, like my close friends. I get so inspired by even my DJ partner Louisa and my production partner Laidback Luke. Everything inspires me, and I don't mean to sound totally cliche, but probably my top three would be Derrick Carter, John Tejada, and Trentemoller. And, of course, classic sounds like Larry Heard.
Armand Van Helden is a huge inspiration. He's a very close friend of mine, as well and sometimes I'm like, "Yo, do you realize you're one of the reasons I'm doing what I'm doing? Your tracks just meant so much to me growing up in New York!".

Do you have any advice for up-and-coming DJs, or specifically girls who are trying to make it?
I would say stick to your guns, figure out what music you like to hear. My goal is always to make the crowd feel as happy as I do when I hear the track. I don't play things that I don't stand behind. I go for longevity of records.
And try not to sell out with all this "sexy celebrity DJ" bullshit. It's so silly. I mean, I show up to gigs in my Doc Martens, stretch pants, and a hoodie, and I'm like "Yo, what's up, I'm here to play music". Don't get me wrong, I'm still a girl, I'm not saying be a tomboy, but at the end of the day it's about the music. Stick to your guns and stay true to yourself. That's my advice to anyone that's starting in this industry.

Do you have any new projects coming up?
We have a record coming out with Laidback Luke, and I have a record coming out on MixMash — it's called Jackit. It's really going to be just a fun track.
Also, I just produced a song for Maluca's new mixtape; Luke and I are also collaborating with her, and I'm collaborating with Junior Sanchez.
Just be on the lookout! I have a lot of stuff coming up in 2010. There's a lot of stuff going on for me, so stay tuned!
As part of our Juno Week coverage, we got Juno nominees Carmen & Camille to take the 20 Qs. They're up for Dance Recording of the Year and will most definitely be out in St. John's for the festivities.
1. What is your dream of happiness?
Carmen: To live a life filled with family and friends, people that care about me, to work hard and play hard and keep getting to do what I love.
2. Blonde or Brunette?
Camille: I've been both and like both for different reasons.
3. What is the quality you like most in a man?
Carmen: Honesty
4. What do you fear most?
Camille: Not reaching the goals I've been working towards my whole life.
5. 808s or 909s?
Carmen: Is that jeans? Maybe 808′s because 8 is a lucky number
6. What's your biggest regret?
Camille: Not taking piano when I was a kid… I should have listened to my parents after all though I ended up taking it at music school.
7. What's your fav bar or club in the world?
Carmen: Any club in Ibiza
8. What's the one thing you can't live without?
Camille: My twin
9. What are the 3 musicians dead or alive you'd like to see perform?
Carmen: Jeff Buckley, Madonna and Michael Jackson
10. What is your favorite decade in music?
Camille: The 70′s… there were so many good guitar players and a cool vibe going on then
11. If you had to choose, would you rather go blind or deaf and why?
Carmen: Whichever one doctors and scientists are closer to being able to fix… both would be tough
12. How old is too old?
Camille: Age is just a number
13. Where do you see yourself in 15 years?
Carmen: With a husband and kids, still writing music, starring on broadway and maybe with my own talk show. You have to dream big :)
14. Who's your hero?
Camille: Nelson Mandela… I read his biography and he is so well spoken. It was very inspiring.
15. What's your favourite colour
Carmen: Blue
16. What song could you live without ever hearing again?
Camille: The Macarena… I could do without seeing the dance ever again as well
17. Metallica or Madonna?
Carmen: A fan of both but have to go with Madonna
18. What's your most hated vice?
Carmen: For myself it's biting my nails… for any vice in general it's smoking; I've had my fill of second hand smoke.
19. Who is the most tragic figure in history?
Carmen: Musically I'd say Jeff Buckley, his album is genious, I wish we all could have seen what he would have done next.
20. What are the top three live shows you've seen in your life? –
Camille: Probably Robert Plant in Budapest cause it was in such an intimate venue, Buddy Guy at Deer Lake park in BC, and Pink in Nottingham, England, our girlfriend was playing keyboards with her which was cool, not to mention Pink is a great singer live.