Nuit Blanche is officially a week away (Saturday September 29). The annual all-night celebration of contemporary art will be taking over the streets of downtown Toronto from sunset to sunrise, and we will be right there with it. Pink Mafia will be exploring every corner, and live tweeting about it here. Join us, all night, tweeting about Nuit Blanche with the hashtag #PMBlanche
The all-night autumn-in-Toronto staple might be a bit much for the unprepared or the uninitiated, so we have created a list of gathered wisdom to help you make the most of it. We had so much fun remembering some of our favourite projects from years past, that we compiled them below to share with you.
YULI: Last year was my first summer in Toronto and it was decidedly a Deadbeat Summer. This summer was the total opposite. I spent five sleepless days photographing NXNE, of which highlights include: getting backstage for Action Bronson and Killer Mike and drinking beers in a stranger's backyard while 20 bands played on a breezy afternoon. I learned how to make jam and how to true a bicycle wheel. Had a hand in helping a friend start a record label and another a theatre company. I discovered that Lake Ontario is just as cold as any glacier feed lake in Alberta and that you have to successfully traverse an obstacle course of rocks before you can enjoy a dip. I learned that I have a talent for taking pictures of food, not just a talent for eating it and that Ama knows every mixologist in Toronto.
Read more to see what Hannah & Georgia did this summer…
We rounded up a bunch of goofs we know with good style for the Men's Fall piece. It's officially chilly. Summer is way over, and here's a look at the warm and snugglies that you should be rocking for fall.
Meet the boys:
I was introduced to Industrial and Furniture Designer Evan Bare of 608 Design through Nathan Buhler (read his Q & A with Lossless Toronto). Nathan and Evan are working on a relatively top secret urban landscape installation that they might choose to share with us soon, but it was Evan's chairs, with echoes of midcentury simplicity and names like The Annex Chair, that absorbed me. I recently had the chance to ask Evan about his work, his process and his passion for function, beauty, sustainability and accessibility.
I had the opportunity to chat with Nick Zammuto (formerly of The Books) while he was on tour with Zammuto, as they embarked on their North American tour. They're playing in Toronto at the Molson Amphitheatre on September 20th – get your tickets here.
TV CARNAGE has fans from pretty much every corner of the Internet and beyond (like…the non-Internet? The Real World. Not the MTV one, though). Editing together clips of bad television into new and more interesting stories is something only a creative genius could accomplish.
It is not surprising then that Pinky, the creative genius behind TV CARNAGE,  gave us answers to our 20 questions unlike any we have ever gotten before.
 At Pink Mafia, we've dedicated September to saying RIP and goodbye to summer. Fittingly, this splits-ville summer has left us saying RIP to maybe high-profile celebrity duos as well. RIP TomKat. RIP Rpattz and Kstew, and of course, RIP Mike and Ike.
We are trying to be supportive of both Mike and Ike through this difficult time and are helping them see the silver lining of their breakup. There's nothing like a break-up to fuel the creative fire in an artistic soul, right guys? Both Mike and Ike seem to have been riding the wave of inspiration lately.
For my 50th blog, I present to you two of my favourite things: Sex and Halloween. I have an interview with an art director and a new concept for Halloween 2012, AKA GAY New Years Eve
For something so prevalent in our daily lives, it's a wonder that a novel hasn't been written about it before. Hype Machine, Soundcloud, Pandora, Spotify, the list goes on: companies which harnessed the demand for music at our fingertips – for free and without the trip to HMV – whilst propelling the careers of musicians who typically never had a chance in hell to 'make it'.
EVAN: Got summer hair and a new tattoo. Left the city as much as possible. Went to the island at least once a week until  August. Went to 3 cottages; one in Quebec, one in Apsley, and one secret location on a private island. Took my cooking skills up a notch as well as my tan. Got into working out (fuck I'm fit). Pool hoped. Made bad choices (no regrets) Got to see my favorite performance artist – RiFF RAFF. Built a table..I'm masc. Transcended in nature. Too many BBQs to count. Went to Brass Rail to watch my bros get horny. Puzzled in my down time. Watched all the movies and smoked weed EVERY SINGLE DAY. VIP at Canada's Wonderland. Saw a Praying Mantis on the Leviathan. Prayed to Mannon.
Read More to what Kate Snack & Samantha did over the beautiful summer we just had…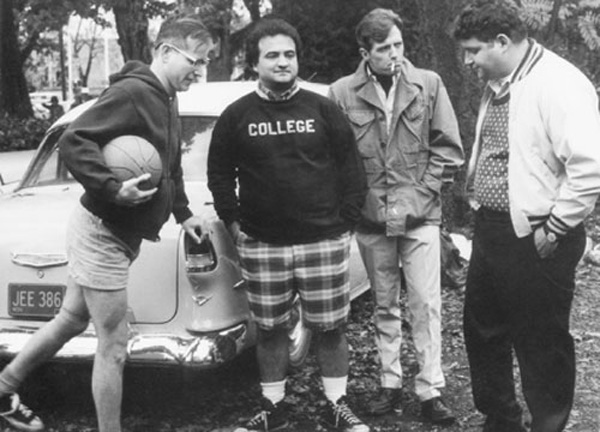 A month after I turned 18, I moved to Montreal into what was quite possibly the shittiest dorm room ever. It fit two beds, foot to foot, 2 desks and 2 dressers. My roommate and I were polar opposites and didn't want to wake up staring into each others eyes, so I made my room even smaller by cutting it in half.
PINKMAFIA is looking for a new intern! If you're the kind of person who is always on Twitter and Facebook, has a love for music and pop culture and loves to write, then we are the place for you.
Duties include:
• Writing blog content, Facebook and Twitter content where needed
• Managing editorial calendar and keeping writers on schedule
• Filing, office maintenance and general office administration
• Creating and executing weekly newsletter for PinkMafia
• Helping to manage blog posts, street team, events and any other tasks required
• Being outgoing and detail oriented and able to work independently with little direction and supervision
• Contributing actual ideas
If this person is you, then please submit a couple of paragraphs about yourself and your experience (no resume's, we don't care if you worked at Starbuck's or if you have a bullshit Arts undergrad from any University) as well as a writing sample that's in the PinkMafia voice to info@pinkmafia.ca Subject "Intern" by Sunday September 23rd, 2012
This is a part-time position for 3-4 months, expect to work 20 hours a week, 8 in office and 12 at home. Start date: October 1st-2012 to February 1st 2013.
In the meantime, check us out here:
www.PinkMafia.ca
www.Facebook.com/PinkMafia4Life
www.Twitter.com/PinkMafia4Life
I don't usually use this column to talk about politics, but the cool thing about having a (semi) functional brain and a (fully) functional computer is that I can use those things to do almost anything at all.
In the last few weeks, I used them to watch YouTube videos of all the Republican National Convention and Democratic National Convention speeches. If I didn't work in the evenings, I would have been watching the speeches on television. And THAT is how this column about politics relates to my usual television theme. Pretty sneaky, huh? (Not at all.).