Hey peeps, so its official the 34th annual Toronto International Film Festival is live n direct in the T.O. And ya know what that means 'Time to put on the shades to go incognito to do some star-gazing/celeb-stalking or whatever you wanna call it!!'  Ooo… please I know y'all are dyin' to glimpse someone Demi, a lil Clooney or Cage, how 'bout some Meghan Fox just as I thought. For those of you that live under a rock and missed the opening nite SHA-BANG… never fear Pinkie is here.
It was sheer madness as TIFF launched last night at Roy Thompson Hall with the evening premiere of John Amiel's Creation British biopic about Charles Darwin. The stars of the film and real-life couple Jennifer Connelly and Paul Bettany took quite the stroll down the red carpet lookin' fine… if I do say so myself!!
Moving right along from one red carpet to another, the Visa Screening Room on Yonge Street was in mass hysteria with the arrival of Penelope Cruz and her co-star Lluís Homar of Pedro Almodovar's, Broken Embraces. FYI its' the movie's North American premiere introducing the audience to the story of a young actress trying to make it big. You heard it hear first… LOL!!
I know the insanity, and I'm still not done!! For all you that don't know TIFF's Midnight Madness kicked off  last night with Megan Fox, Amanda Seyfried and Diablo Cody all walking the red carpet. Repping their film, Jennifer's Body which is soo on my list of must sees and promises not to disappoint chalked full of horror and comedy.
I know for many of my peeps they think all hope is lost and their only resort is star-stalking, sorry I meant gazing when its comes to TIFF. First off if you have the loot and the inside hook-ups there are tons of movies premiring tonite including: The Ape, The Day God Walked, Dorian Gray, Irene, Kelin, Suck, Daybreakers, The House of Branching Love just to name a few. There are a couple big ticket items tonite, first one the highly antipicated The Men Who Stare at Goats starring mega hotties George Clooney and Ewan McGregor, with that said I'm sure you don't need to hear minor deets about the movie. Up next on the must-see is Bright Star directed by Jane Campion starring Abbie Cornish and Ben Whishaw which is a period piece based on the romance of John Keats and Fanny Brawne, to be quite honest I hear its amazing.
For all my peeps who are tight on cash flow… its all good. I got ya, betcha didn't know that TIFF has FREE screenings… I know, I'm that good.  Todays' free screenings included Dixie Chicks: Shut Up and Sing, 20,000 Leagues Under the Sea, Suck: Showcase, and Ziggy Stardust and the Spiders for Mars.
Free Screenings for September 12th include: The Harder they Come
OMG the must see free screening is Precious,which is based on the novel "Push" by Sapphire Spotlight…and the best part the author herself will be reading from her own creation. Its rated one of the strongest and best American films of 2009. If you wanna see hardship, and real life highs and lows this is the movie for you. I know there's literally tears welling up in my eyes.
And if The Night of the Living Dead is more your speed feel free to drop in on the Survival of the Dead: Toronto Zombie Walk. "Special Director's Cut Edition", to mark the North American premiere of George A. Romero's, Survival of the Dead which is part of Midnight Madness at TIFF.
So folks that was more than enough stalkin' for one nite… but y'all kno I go hard to make sure my peeps have the inside scoop and 411 on everything. With that said I don't want to be viewed as a 'suspicious character' so I'm lying low tonite.
Peace Out,                                                                                                                                                                            Pinkie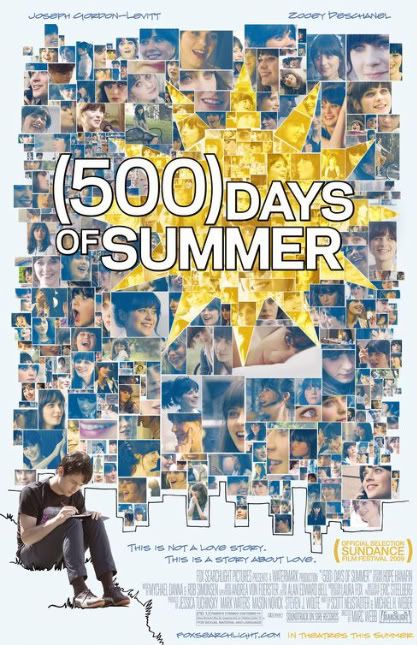 Plot Synopsis:
"This isn't a love story, this is a story about love," being the tagline for this film, pretty much sums up the entire plot. Tom still believes, even in today's cynical society, that love can change, consume and conquer all. Summer, on the other hand, doesn't believe in any of that, but Tom won't let that change anything. He pursues her endlessly, falling in love with not only Summer, but the very idea of love and how it might be able to change people and the world, regardless of the odds.
Cast:
Zooey Deschanel, Joseph Gordon-Levitt, Clark Gregg, Minka Kelly, Chloe Moretz, Matthew Gray Gubler, Geoffrey Arend
Director:
Mark Webb
Review:
500 Days of Summer is like a fairy tale gone wrong… but in a good way. I have never seen any movie that so eloquently captures what it's like to have your heart completely and utterly broken in 2009. In those 500 days, we are allowed to view the beginning, middle and end to a relationship, and anyone who has ever loved someone knows what that looks like.
The soundtrack is absolutely fabulous with songs from The Smiths, She & Him, Regina Spektor, etc… You really feel the emotions that Tom is going through throughout the film strictly because the music is so perfectly matched with all of the scenes.
The cinematography and writing were absolutely beautiful, and probably my favourite part of the entire film. The split screen between Tom's reality and his expectations in a particular scene, the dance sequence, the colours, everything.. it was just beautiful to look at. I especially liked the fact that, in terms of colour scheme, they stuck to one colour, blue, which really brought the entire film together, visually.
500 Days of Summer is one of my favourite films of all time, and not because it's a Citizen Kane or a Godfather, but because it's so real. And any movie that allows you to relate to it so well, has to be given a chance. So go see it!!!!
Rating:
5/5
By the way, heres a link to a short video that Zooey and Joseph made for the film, with music from She & Him in the background.
Here's our Guide to 4AM license in Toronto for International Film Festival
(Click here for a downloadable guide!)
Every club chomps at the celebrity bit during Film Fest but after years and years of parties, both official and un, we have become seasoned vets at this TIFF party biz. It's not about who's gonna be there (chances are you won't even get so much as a glance at Megan Fox at her party) it's more about who's in attendance on the dace floor.
Whatever boring corporate bullshit you attend in Yorkville, or maybe you actually go to some of the movies (yawn) after, you'll want to dance. And you won't be the only one. The best stars (ehem, Benicio Del Toro and Viggo Mortensen all head out after their premiere's to the 4AM last call jams that are packed with talent (of the music kind) and the heart and the babes. No ropes or cameras or VIPs here. Just you in your gorgeous dress, flinging yourself into the night with wild and total abandon. Below are our Best Bets over the next ten days
THURSDAY SEPTEMBER 10
After you're done shimmying and shaking at The In Crowd @ Tattoo $5
With Live performance by: The Superstitions
CLICK HERE FOR THE Facebook event.
Head over to The Drake Underground
1150 Queen St. West $10
For Brandon Sek, Meech and AC Slater (Trouble & Bass)
CLICK HERE FOR THE Facebook event.
FRIDAY SEPTEMBER 11
First, hit up Arcade Fridays @ The Mod Club 722 College St $10
and get your picture taken by New York party blog: www.lastnightsparty.com and get down to Parallels
CLICK HERE FOR THE Facebook event.
Then head to Wrongbar 1279 Queen St. West $10
for Fuck Faces vs. Shit La Merde
After a 6 month hiatus 2 of the most prolific down and dirty parties in Toronto join forces to co-opt the 2nd Friday of each month at Wrongbar DJs: Dave La Merde (Shit La Merde), Dougie Boom (DMoney), Andrew Ross (Nacho Lovers), Syntonics Live (INTELLEGENIX), Romo Roto Live and more.
CLICK HERE FOR THE Facebook event.
SATURDAY SEPTEMBER 12

Wrongbar has The Twelves- just go here and stay all night. 1279 Queen St. West
Tickets are $15 in advance at: Want Tickets, Rotate This Sound Scapes, Play De Record
Here's a sexy video of Wrongbar Saturdays, also known as "Most Fun You Can Have With Your Pants On"
CLICK HERE FOR THE Facebook Group.
SUNDAY SEPTEMBER 13
DMoney hosts The Drake Underground for GASLAMP KILLER, MY MAN HENRI, ULTRAGAMMA – 4am
Sunday September 13 @ The Drake Underground, 1150 Queen St. W – $10
"This is hands down the best shit of the fall right here" –Darcy Scott, DMoney
CLICK HERE FOR THE Facebook event.
Century Room 580 King St. West
DSquared Party with DJ Tito (Miami/NYC) and jojoflores (Montreal) the Fashion set will be in full force for this one.
MONDAY SEPTEMBER 14

Little Boots @ Wrongbar 1279 Queen St. West
$18.50 Advance
Victoria Hesketh (born 1984), known professionally as Little Boots, is a British electronica musician. She sings, plays synthesizers, Japanese electronic instrument the Tenori-on and the stylophone. She is the former lead singer/synth player in Dead Disco.
She was on Pop Idol, but who cares, now she's a real idol. Her track, Stuck on Repeat was produced by Joe Goddard from Hot Chip and was released on limited 12" white-label vinyl in March 2008. Hot off the hugely popular success of Stuck on Repeat, Little Boots released Meddle, her second single, and has since won the BBC Sound of 2009 award.
Get tickets at: www.ticketweb.ca, soundscapes, rotate this & play de record
After the party, there's the after party.
Vicious Mondays @ The Social 1150 Queen St West $10 is hosting the after jam for the above with DJs Crunch & Nasty Nav (who also owns Wrongbar)
TUESDAY SEPTEMBER 15
Feel like Mixing it up?
Street Level Tuesdays @ Century Room 580 King St West is doing their TIFF Industry event Hosted by Jie (you need to be FROM Toronto to appreciate that). Music by: Jedi $10
WEDNESDAY SEPTEMBER 16

If you have arrived at this date and hit everything above than you deserve to have a seat a recharge your soul.
Check out Art'd @ Marben 488 Wellington (FREE) it's a monthly vernissage that we do. Doors are at 8PM and the theme is Nature vs. Culture. The patio is licensed and gorgeous for dranks and chats. $4 Steam Whistles and 1/2 Price delicious aps until 10PM–Marben also has a 4AM license so you should pop in late night if you're in the area as well.
Once you're powered up, you need to check out the Snow Patrol/Belle & Sebastian after Jam at Wrongbar 1279 Queen St West $10 that JUST got announced. We have a free list for this, so email: info@pinkmafia.ca Subject "Bell Snow" to get on that.
THURSDAY SEPTEMBER 17
You know what, go to the damn Bovine Sex Club 542 Queen West. They have a 4AM license and it's one of the best bars in town. Who've we seen chillin' at the Bovine? Every member of Motley Cue (but never on the same night together), Mickey Rourke, Asia Argento, Queens Of The Stone Age, Anna Von's personal fav, Eagles of Death Metal, Interpol and Kings of Leon. And the best part is they don't do VIPs, the parties are down and dirty and there isn't a hair of evidence that surfaces on the internerd the next day.
FRIDAY SEPTEMBER 18

Explicit Fantastic is doing an 80s Glam Porno Night @ The Metro Theatre (now defunct porn theatre in Koreatown) and we are starting the party off here FOR SURE 677 Bloor St. West $15
Artist showcase: MC's Sweatshop Shop, Live Photo shoot by Alex vs Alex, Live Performances by: Henri Faberge and the Adorables, Kids On TV, Mellefresh. DJs: Vaneska, Spydabrown
CLICK HERE FOR THE Facebook event.
Then, we think you should head over to The Social 1100 Queen St West for Night Trackin' With: The Juan McLean (DJ Set), CFCF, Mikey Apples-$10
And before you're totally tuckered out, hit Footwork for the Black Party JELO 7 hour Extended Set $10 on list (which we have so feel free to email: info@pinkmafia.ca if you want a piece)
Jelo @ Volume
CLICK HERE FOR THE Facebook event.
SATURDAY SEPTEMBER 19
We think you should try something entirely different this night.
Head over to Goodhandy's 120 Church St. $10 for Sodom: Goddess Celebration with DJs Daniel Paquette (fab Magazine columnist) and Shane Percy (Grapefruit) Drag Queen Daytona Bitch is gonna do 40 Madonna songs in 4 Minutes. Now THAT is something worth seeing!
CLICK HERE FO THE Facebook event.
Then hit the Rosewater which is the official after hours for Toronto International Film Festival
19 Toronto Street info@kleenmedia.ca
We have no idea who the DJs are or what's going on there but this was the first spot to get 4AM way back before the west end even existed, and it's always good for a laugh and a dance.
CLICK HERE FOR THE Facebook event.
If you make it through this in one piece, you'll win a high five from us and a liver transplant from your nearest hospital.
Let the TIFF-ing begin!
School's back, it's frosh week. If you're new to Toronto, chances are you'll be overwhelmed by the choices the city has to offer. We're thinkin' about you here at Pink Mafia, so we threw together a guide to make your first year more enjoyable.
Click here for a bigger version of the map.
Area 1 (blue on map):
Spadina to Queens Park/Bloor to College
Residences:
-UofT: Wilson Hall: 45 Wilcocks Ave
-UofT: Westmore Hall: 21 Classic Ave
-UofT: 45 Wilcocks
-UofT: Innis College Residence: 111 St. George St
-UofT: University College Residence: Heart of St. George Campus
-UofT: Woodsworth: St. George & Bloor
Where to Eat that they don't tell you at Frosh:
-Flip Toss Thai
cheap and they deliver
-The Real Thailand
authentic crispy veggie thai food at good prices
-Fresh on Bloor
No delivery but they do takeout
-Tacos El Asador
best burrito in Toronto
690 Bloor St. West
416.538.9747
Where to grab the Best Hangover Breakfast:
-Mel's
440 Bloor St. West 416.966.8881
open 24 hours (so it's also good for after the bar eats)
good MTL Bagels
-Over Easy
the story here is that the guy who opened it ripped off Montreal's Cora's before it expanded to Toronto
Where to Get After the bar eats:
-Cora's Pizza on Spadina
656A Spadina Avenue (Just north Harbord)
416.922.1188
This place has been opened for years and it's waaaaay better than Pizza Pizza. And everyone knows it, which is why it's packed after the bars close every week
-Sneaky Dee's
It's not really about the service or the portions, it's pretty american in terms of the mexican menu but it's soooo good at 2AM. They also sell cheap pitchers, do a good hangover breakfast and have decent events upstairs. Get to know this place, you will be going there a lot.
Where to drink cheap:
-Bistro 422
422 College
416.963.9416
Pitchers of whatever you want (we like Long Island Iced Teas) for 12 bucks flat.
The back patio is actually not bad, just gotta get by the rank bathrooms and up a staircase of ruin and you're home free
-Sneaky Dee's is also good for this.
-The Dance Cave
Good irreverent fun on Friday and Saturday nights. They play all the hits from the Beatles to Bloc Party. We also do a night just as fun on Thursdays at Tattoo with the in Crowd you should try checking out. Student IDs free till 11PM. $3.50 Drinks till Midnight. Nothin' but net
Please avoid: The Madison and the Brunswick House, unless you like brutish guys who borderline date rapists hitting on you all night. Plus we're pretty sure you can get STI's fromt he bathrooms. All university students make the fateful Maddy/Brunny mistake in first year, so go ahead, try themonce, then file them away in the "never again" category and move on
Area 2 (green on map)
Queens Park to Jarvis Street, Bloor to College/Carleton
College is called Carlton East of Yonge and College west of it. It's a tricky one, and it annoys people from out of town, but you'll get used to it. University also becomes Avenue Rd. north of Bloor St.
Residences:
-UofT: Loretto College Woman's Residence: 70 St. Mary St.
-UofT: Victoria College Residence: Queens Park Cres.
-Ryerson: Pitman Hall: 160 Mutual St.
-Ryerson: International Living & Learning Centre (ILLC): 240 Jarvis St.
-RyersonL O'Keefe House: 137 Bond St.
Where to Eat:
-Salad King
335 Yonge Street (entrance off Gould)
416.971.7041
You HAVE to go to Salad King. Our mouths water just thinking of this spot. Good for meat lovers, good for veggie's, eat in on shared dining tables almost cafeteria style or take out. They have a chili system to measure hotness that goes to 10. We love spice and still never get past 5 without paying for it dearly. More peppers and spices and mouth-gasm than any other thai place in town and it's affordable to boot
-Sweet Lulu on Church
471 Church St.
416.323.3235
you pick your protein, your noodle, your veg and they make it for you. It's a simple eat in/takeout spot. No Frills, all taste.
-Zelda's
542 Church St
416.922.2526
If you're cool with the gayborhood, which you should be because it's awesome, then go here for patio eats. They have all the regular fixin's and great people watching and of cours drag shows and other campy fun at night. One of the best patio's east of Yonge
-Ginger on Church
546 Church St
416.413.1053
Ginger is a chain. We personally like the originally next to strip bar, the Brass Rail the best but the Church St. Location is the second in line hands down. It's a combo place and they are lightening fast and cheap. Mainly vietnamese, but they dabble in thai and chinese as well. You can order, sit and eat in under 30 minutes no problem.
They also deliver
-Le Commensal
655 Bay St (Entrance on Elm St.)
416.596.9364
It's not cheap but they have a lot of tasty vegan options including delicious desserts and pate's. Basically it's a buffet and no one can resist piling it on. Technically you can eat here for under $10 but there are so many good healthy and tasty options, it's easy to rack up a $20 plate if you're not paying attention
-Ichimi Sushi
66 Edward
416.542.1266
Close, quick, under $10 for a lunch Bento. Can't go wrong
Where to Drink Cheap:
Here's the words to the wise: there's lots of shit hole-in-the-wall bars east of Yonge/Church but unless you're with a local, we don't think you should get real explorative. Everything East of Yonge is mixed. The neighborhoods are alive with all kinds of pockets of awesome, but they are mixed in with not-so-safe and sketchy. So here's our easy to use, safe guide to the east end rez life:
Stick to Church and College St and Yonge North of Wellesley and you will do just fine.
Church Street: also known as boys town or the Gayborhood has great service and good prices.
-Voglie
582 Church St
416.929.9108
has a secret enormous back patio
-Fuzion
580 Church St
416.944.9888
has a front amazing garden one
-Hair of The Dog
425 Church St
416.964.2708
has a great breakfast and Sangria
-Byzantium
499 Church St.
416.922.3859
is where you go for Martini's
College gets better West of Spadina. Just take the street car and get off at bathrust (Sneaky Dee's can be your beacon in the night)
-The Fabulous Cafe
635 Bay St
416.593.1423
gets sun all day and well into the evening on their patio and the drinks are dirt cheap. Pretty quiet in the winter too. Good place to just get smashed with friend over a pitcher.
After the Bar eats:
-7 West is a 3 floor cafe that's open 24 hours
7 Charles Street West of Yonge
They also make a good hangover breakfast
Best Hangover Breakfast:
-Eggspectation is really the only place that's dedicated to breakfast and it's south of Dundas on Yonge
220 Yonge Street
-Big Momma's Boy
They also make great Pizza
-Brass Taps
221 Carleton St
416.966.9440
homemade pizza goodness. Good for breakfast lunch and dinner
-Johnny G's
478 Parliament St
416.928.1358
A bit out of the way but totally worth it. It's got a great brunch that's like 2 levels up from a greasy spoon but with greasy spoon prices
Area 3 (red on map)
Dundas to Queen St/Queens Park to Spadina
Residences:
-UofT: Chestnut Residences: 89 Chestnut
-OCAD–No residences but so many people live in Village on The Grange it's ridiculous
Best places to eat:
-Little known fact, there is almost nothing decent to eat on Queen St from Yonge to Spadina. It's like a tourist hole of a place with nothing but government buildings, shops, clubs and businesses and tourists. There's burrito joints and chicken wing spots and you can grab a falafel, but there is NO character down there so if you want to do anything worth doing, you're gonna have to venture
-Along Dundas from Bay St to University, there are dozens of good chinese places, all of them affordable.
Our fav: Spadina Garden
114 Dundas St. West
416.977.3413
It's open super late on weekends and they have everything from crispy chicken to the straight goods. Something for everyone, service is fast and the place is huge so you never ait more than 5-10 minutes for a table
-Along Spadina at Dundas there are tons of Vietnamese spots where you can get a banh mi (a vietnamese sub) for as little as $1.50
After the Bar Eats:
-There are two types of people when it comes to Chinatown late night eats.
Those that hit Rol San and those that go to Happy Seven
Happy Seven
358 Spadina Ave
416.971.9820
They serve the infamous cold tea and have been shut down twice for rats (like in the windows) but so many people know this place that sometimes when you're with a group of 10 hammered people, it's easier to give in that fight
Rol San
323 Spadina Ave
416.977.1128
We're on the Rol San team. They serve cleaner food with more variety and do the non-white shit great. They don't do cold tea and it's brighter than a hospital in there though, so know that before hand. There are also several people who swear by their dim sum (again, this is another one of those personal-taste categories where EVERYONE has an opinion on "the best").
Shanghai Cowgirl
538 Queen St. West
416.203.6623
It's a bit west since it's almost at Bathurst on Queen but on Fridays and Saturdays they serve food till 4am.
It's an old style rock-and-roll diner but modern enough that it's not all kitsch. They also have a great back patio if you ever wanna hit up their weekend brunch or all-day breakfast or nurse beers with friends. They serve funny stuff like triple-decker grilled cheese sandwiches and shanghai noodles. They're known for yam fries with wasabi mayo and if you're under 25, you can totally afford it after a late night dranking. So hit that up
Best Hangover Breakfast:
-Last Temptation (or "The Temp" if you know)
12 Kensington
416.599.2551
The best thing about this place (other than the cheap breakfast, pool tables and cheap dranks) is that the waiters are int he same state as you serving breakfast on a Sunday. In fact, everyone is. The Temp is the kind of spot where you go to lick your wounds over generic eggs and toast with a ceaser on the side.
Dim Sum:
-The Bright Pearl
346 Spadina Ave (Entrance off St. Andrew)
416.979.1103
Everyone's got a spot they like better but we're going with the biggest as the best. If you really wanna feel an urban downtown feel at a lively dim sum joint, the Bright pearl wins every time. It seats 350 and there's a healthy mix of families, couples, young people, old people, asian and hipster. The Bright Pearl for Sunday dim sum is the epitome of Toronto's multicultural vibe. It's a real landmark and one of the few places you can go with your mates AND your mom for brunch and still win. Plus it's totally affordable and filling.
Where to drink cheap:
-The Black Bull
298 Queen St. West
416.593.2766
They have the best patio in the city. It's huge, it's got great sight lines for people watching and it's rammed noon to close every day in the summer. When it gets cold, avoid it altogether
-Ronnie's Local 069
69 Nassau St
416.340.1110
It's a bit rough around the edges. You can tell that people who live and work in the market go here and they're not too jazzed about outsiders. But screw them, it's a great place for a pint. Int he summer it's got a great picnic benched patio wsith shred tables and in the winter it's a homey hole of a spot that is welcoming like a warm hug. keep this on your radar for pre-drinks on a date or meeting friends at a club too.
-The Embassy
223 Augusta St
416.591.1132
The Embassy is boss. Tiny and kinda art deco, it's a great little spot for a drink before you go out. the drinks are reasonable even though it has a classier feel than most spots in Kensington. The market is rife with spots, but this is the kind of place you can take  date.
First, here's what you missed on Friday…
Arcade: ar-cade
Pronunciation: \är-kad\
Function: noun
1: An amusement center having coin-operated games.
2: Your new favourite Friday night party!
Brought to you by Embrace, The Mod Club's new Friday evening plays host to an assortment of colourful, interactive activities, featuring your fave Djs and and a hoppin' dance floor.
September 4th marked the official launch of Arcade Fridays, incapsulating new levels of epic. Main floor guest djs were Barletta, Nasty Nav, Milano, and Brandon Sek, while the upstairs loft hosted an intimate lounge with tunes by Vaneska and David Hall.
If you missed out last Friday, copy and paste these images into your memory and get pose on when LastNightsParty.com and Parallels take over College St, on Friday, September 11th.
(Above Words and Photos by Melania Fedyna)


We sorta skipped Saturday, Hot & Spicy fest had us filled with the itis. But by Sunday, it was Game On Again.
Barletta is our boy, and we've been shooting an amazing promo for his upcoming Whisper EP release by running around town getting into all kinds of trouble with Al D (our main man on the snaps)
Some morsels for ya:
Out takes from the video:
We know it looks bad, but it's staged. Katchup and Sweetner. Still, so delicious
Anna Von's new ride
It was Gillian's Bday. We danced danced danced.
Hot off the tail of The Social, we hit Labor Of Love at the Guvernment just in time to catch Tiga's jaw dropping set including our most delicious top fav, Fever Ray Triangle Walks (Tiga 1-2-3-4 Mix) was the real deal. None of these tried and true radio hit tricks. Actual talent. So rare. So delicious.

Photos courtesy of Al D!
Here's what's good in the city this weekend, Toronto people!
FRIDAY SEPTEMBER 4:
It's the official launch of Arcade Fridays at the Mod Club tonight – and this is going to be a rager! Plus, Barletta is going to preview tracks from the soon to be released EP Whisper.
SATURDAY, SEPTEMBER 5:
Local indie musician Owen Pallett plays a show at a secret location with Gowns, Huckleberry Friends, Wyrd Visions and Carl Didur. You will have to travel about 70 minutes from downtown on the TTC to get to the location – tickets can be bought at Rotate This! and Soundscapes.
SUNDAY, SEPTEMBER 6:
From 9pm to 9am, The Guvernment will be host to one of the most intense dance party that's happening this labor day weekend. Tickets are between $40 and $60. If you go, we recommend The Tent room:
TIGA
THE WHIP
D.I.M.
AUTOEROTIQUE
PAPARAZZI
NASTY NAV
BOMBAMAN
If you're broke but still want to go dance your ass off, you can go to The Social. We have the only reduced guestlist, $5 until midnight.
All weekend events:
The Hot + Spicy festival is going on all weekend down at the Harbourfront, which even features the international firefighter calendar preview. That's hot.
Another fun free thing to do on a weekend while it's nice out is to take a trip to Toronto island on a ferry.

Here are some photos from the In Crowd at the Tattoo Rock Parlour last night that our talented friend Arkan took. If you weren't there, don't be too sad – you can come next week! Every Thursday, we bust a move to the best music from the 60′s. Come dance with us! These are the Portraits from last night, the rest of the series can be found here!
Photo credit: Arkan
DazedDigital recently ran the first Dazed Raw Blog Awards – and one of our favorite fashion bloggers, Tommy Ton won an award for his blog, Jak & Jil!
There are a lot of "street fashion" blogs out there, but what we like about his is that the photos are natural, not a lot of them look posed.
Congratulations, Tommy Ton!
A consummate singer of defining prowess in a hip-hop rock pop crossover era, Anna Cyzon's music is a hybrid of wrist spraining guitar driven, power-pop and witty lyrical ditties. Her stratospheric journey began many moons ago leading her to Canadian Idol then segued into MTV as an on air personality for half a decade. There she got to see the inner workings of the media machine, developing the savvy for television, interviewing anyone from Shania Twain to 50 cent. Her music covers many genres. The restless punk pop driven "Young Boy" to the hip hop head nodder "Reputation" – a testament to her bandwidth as an artist. The ecstatic sonic no nonsense approach of her music is a sign post of someone destined for mythical status.
1. What is your dream of happiness?
Being still in the moment… that and the grammys. oscars too maybe. I'm super ambitious. dream big or go home right?
2. Blonde or Brunette?
duh!
3. What Is the quality you like most in a man?
Always been a sucker for magicians. I mean musicians. Maybe one day I'll graduate to actors. But talent! talent and brains get a girl every time.
4. What do you fear most?
Myself.
5. 808s or 909s?
Emory Martin on drums
6. What's your biggest regret?
Regret is waste. My only regrets in life will be the things I hadn't done.
7. What's your fav bar or club in the world?
I'm boycotting the bar scene until my record comes out. I can't deal with douche bag bouncers.
8. What's the one thing you can't you live with out?
This is so sad but my crackberry. Can you even imagine what life was like before it?
9. What are the 3 musicians dead or alive you'd like to see perform?
Jimi Hendrix, Michael Jackson, Madonna
10. What is your favorite decade in music?
80s
11. If you had to choose, would you rather go blind of deaf and why?
Blind. Not without my ears
12. How old is too old?
Age is but a number.. I don't believe in physiological restraints.
13. Where did you see yourself in 15 years?
Retired in the french Rivera or some remote island, cutting coconuts, maybe a kid or two.
14. Who's your hero?
Currently, Anna Von Frances. An example of a woman who takes charge and takes no shit from anyone.
15. What's your favourite colour?
Black.
16. What song could you live without ever hearing again?
Most of the crap that's on the radio right now.
17. Metallica or Madonna?
Like a Virgin all the way man
18. What's your most hated vice?
I have no limits
19. Who is the most tragic figure in history?
Kurt Cobain, Kobe James
20. What are the top three live shows you've seen in your life?
Pink Floyd, Kanye West, Brazilian Girls in Iceland
This year's Virgin Festival was originally supposed to take place in Orillia, but a combination of poor ticket sales and people bitching about the location prompted the organizers to take the festival back to Toronto. Every year since its start, the festival has had number of problems: in 2006, Massive Attack pulled out of the festival, The Flaming Lips had to cut their set short because of a noise curfew. In 2007, Amy Winehouse and Peter Bjorn & John didn't play the festival and last year, headlining band Oasis was assaulted on stage. So what did that venue change do for the festival? Well, it probably increased ticket sales, but in my opinion, it was a poor venue choice. The Molson Amphitheatre is just not suited for festivals and the security there love giving people a hard time.
The lineup, however, was solid. On Saturday, the highlights of the day were Pitchfork darlings Grizzly Bear – who recently released one of the best albums of 2009, Veckatimest.
Another great band that most people probably missed was the Rural Alberta Advantage (who are actually based in Toronto right now), and of course, legendary band The Pixies who played all the crowd pleasers including "Here Comes Your Man", "Monkey Gone To Heaven" and the song everyone was waiting for "Where Is My Mind?". It seemed as though most people were here for them, as the crowd got smaller for headliner Ben Harper & Relentless7, who still put on a great show for those who stuck around.
So last night  Mel, Anna & I rocked the Fake Prom. I hear it's a bit of an institution here but myself and Mel, both pretty new to the city were prom virgins of the fake & real variety. Both being Scottish our 'proms' consisted of much less ruching and 80s nostalgia but more formal Scottish country dancing & underwear less boys in kilts.
I must say, more power to them because this crowd pulled out all the stops to fulfil the 'film noir' dress code. Trenches and suspenders, fur, lace & netting were all the name of the game for this crowd. We arrived to catch the end of the prom band "The Best" pulling out some awesome covers a la "Total eclipse of the heart" & "Private Eyes". We hit the bar, staffed by some jolly trilby boys who were impressively speedy wit their bar blades. We did the obligatory 4 beer haul to avoid the queues and hit the dance floor in time for Shit la Merde who was later followed by Dmoney. One of the kooks of this years prom was a matchmaking service offered by the prom committee which was a really sweet idea with lots of 2step evidence on the dancefloor that things were gong swell. Everything we got down to was nostalgia for our generation. It all felt a bit like a save the last dance soundtrack for a while, we dropped down to some motown styles, Cure & Smiths, bringing it back in with some MIA and MGMT. All in all a pretty epic mixed bag.
Everyone was just so down for a good time, it was all the awkwardness minus the pretension. Like when you made good buddies with your geeky science partner when you realised you know what? It's all about the inner cool.
All in all, Fake prom was a refreshing change, a full-on mixed crowd you won't find anywhere else. Dressed up & getting down …at the end of the night I got thoroughly soaked by the storm but I also got one nomination for prom queen, by a dude with an afro and a bowtie. All your Napoleon Dynamite dreams come true.
Plot Synopsis:
The film begins in German-occupied France in 1941 where a young, Jewish girl (Melanie Laurent) witnesses the death of her family at the hands of Hitler's 'Jew Hunter,' Nazi Colonel Hans Landa (Christoph Waltz).
Flash forward to 1944, and we're introduced to Lieutenant Aldo Raine (Brad Pitt) who, along with his band of fellow Jews, The Basterds, are causing a ruckus by scalping and eliminating every Nazi they meet.
Cast:
Brad Pitt, Christoph Waltz, Eli Roth, Melanie Laurent, Diana Kruger
Director:
Quentin Tarantino
This film was a typical Quentin Tarantino movie from start to finish. I have been hearing from a lot of other people who have seen it, that there's "too much talking." Well, to them I say "get some taste in cinema", and instead of seeing something just because Brad Pitt is in it, know what type of genre, etc… that Tarantino typically produces. Of course there's going to be a lot of talking. No one is going to make a movie that is based strictly on Nazi's having their heads bashed in. No one with any talent for making a good movie, anyway.
The cinematography was amazing and one of my favourite parts of the entire film. Camera angles, shots, etc, were perfection. The soundtrack to the film was also wonderful. It went perfectly with everything I was watching. Acting and casting were amazing, although I was a little disturbed by Quentin Tarantino's choice to have Mike Myers make a cameo appearance as a British general. I just felt dirty looking at him. He has a perverted look to his face.
Overall, Inglourious Basterds is a very good movie, if you like that style of film. I don't think it's for everyone, so if you're just looking for some action, or to gaze at Brad Pitt for 3 hours, don't waste $12.95. If you want to enjoy well-made cinema, then go for it.
Rating:
5/5
DJ AM found dead in his SoHo apartment this morning. Leaves behind an eerie last Tweet
You can read more on NBC New York Here
He was only 36 years old. And had a lot more to give.
RIP DJ AM